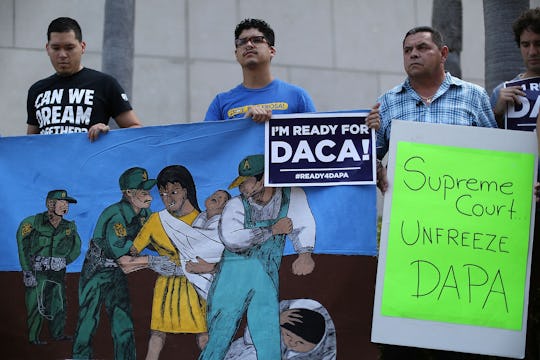 Joe Raedle/Getty Images News/Getty Images
DREAMers Are Being Deported, But Is It Legal?
On Tuesday, Juan Manuel Montes, a recipient of the Deferred Action Childhood Arrivals (DACA) program, filed a lawsuit against the federal government, charging that he was wrongfully deported. When asked about the case, U.S. Attorney General Jeff Sessions said during an interview with Fox News that, though DACA recipients — also referred to as DREAMers — will not be "targeted," they're still subject to deportation. Montes' lawsuit and Sessions has lead many to ask: Is it legal for DREAMers to be deported? Yes, but under certain circumstances.
Under DACA, DREAMers can lose their protected status if they have been convicted of a crime, pose a threat to public safety or national security, or because of gang activity, which puts them at risk of deportation. According to the Los Angeles Times, Immigration & Customs Enforcement deported 43 former DACA recipients during President Donald Trump's first two months in office. That's three times the rate of DREAMers deported under former President Barack Obama when broken down by monthly average. More than 360 former DACA reicipents have been deported since the program was implemented in 2012, the LA Times reported.
Montes, 23, is considered to be the first DREAMer with active status deported under the Trump administration, according to USA Today. The suit states Montes was deported in February despite telling U.S. Customs and Border Protection agents that he was an active DACA enrollee. (Romper has reached out to CBP but has yet to hear back.)
With respect to Montes' case, a spokesperson for the U.S. Citizen and Immigration Services (CIS) told NPR that DACA policies have not changed.
According to DHS data, more than 770,000 people have received deferred action under DACA, Obama's 2012 program that gave undocumented children renewable two-year work permits and relief from deportation. DREAMers are not given legal status under DACA, but are considered to be "lawfully present" in the United States. Existing DACA policy states the U.S. Department of Homeland Security can "terminate or renew deferred action at any time, at the agency's discretion."
During his campaign, Trump had promised to repeal DACA. But as president, he has indicated that the program is safe for now, according to an interview he did with ABC News back in January. Still, despite his assurances, Trump's escalating immigration enforcement tactics has DREAMers worried and uncertain about their futures to the point that it's impacting their mental health.
Marielena Hincapié, executive director of the National Immigration Law Center, which helping Montes with his case, told USA Today,
Even in this administration, because of Trump's comments about loving these people, the integrity of the government's promises are at stake. How does an immigrant family today know that this is not going to happen to them?
They don't.