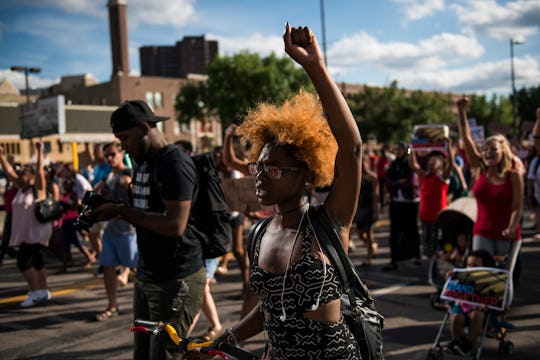 Stephen Maturen/Getty Images News/Getty Images
Is Jeronimo Yanez The First Person To Be Charged In A Police Shooting? It's Not Common
On July 6, Diamond Reynolds streamed a horrifying Facebook Live video, which showed the aftermath of a police officer named Jeronimo Yanez fatally shooting 32-year-old Philando Castile while he sat in the passenger seat of a car in a suburb of St. Paul, Minnesota. Also in the car was Reynolds' 4-year-old daughter who sat in the backseat, witnessing the tragic shooting. The Facebook Live video caught the attention of people around the world. On Wednesday, Yanez was charged with second-degree manslaughter, two felony counts of dangerous discharge of a firearm, according to The New York Times. Is Yanez the first person to be charged in a police shooting? The disproportionate number of black people injured or killed in police-involved shootings continues to be troubling.
Castile worked in a supervisory position in a cafeteria for the school district of St. Paul Public Schools. As NPR reported, the district released a statement expressing grief over the 32-year-old's death. A clip of the statement read:
...Colleagues describe him as a team player who maintained great relationships with staff and students alike. He had a cheerful disposition and his colleagues enjoyed working with him. He was quick to greet former coworkers with a smile and hug...
Castile had a permit to carry, as The Times reported, and Reynolds indicated this to the officer, which was captured in the Facebook Live stream. Reynolds can also be heard telling Yanez that Castile told him that he had a firearm, and indicated that he was reaching for his wallet.
Ramsey County Attorney John Choi in St. Paul said on Wednesday that the "use of deadly force by Officer Yanez was not justified," according to the Star Tribune:
To those of you may say this incident was Philando Castile's fault, I would submit that no reasonable officer — knowing, seeing and hearing what officer Yanez did at the time — would have used deadly force under these circumstances... I have given officer Yanez every benefit of the doubt on his use of deadly force, but I cannot allow the death of a motorist who was lawfully carrying a firearm under these facts and circumstances to go unaccounted for.
But research and statistics show that Yanez's charge is not exactly the norm. As activist and New York Daily News senior justice writer Shaun King wrote, police officers are rarely convicted for on-duty deaths, yet alone charged.
Yanez is not the first officer to be charged in a police shooting. As King pointed out, police officers who have shot and killed black people like Walter Scott, Sam DuBose, and Akai Gurley, have faced charges. The Wall Street Journal has pointed to research that shows its rarity.
According to The Journal, research out of Bowling Green State University revealed that 41 officers in the United States were charged with either murder or manslaughter over a seven years ending in 2011. And as Vox reported, legal standards for officers to use lethal force have likely played a role in the numbers of cases in which officers are charged.
Yanez will appear in court on Friday, according to The Times.