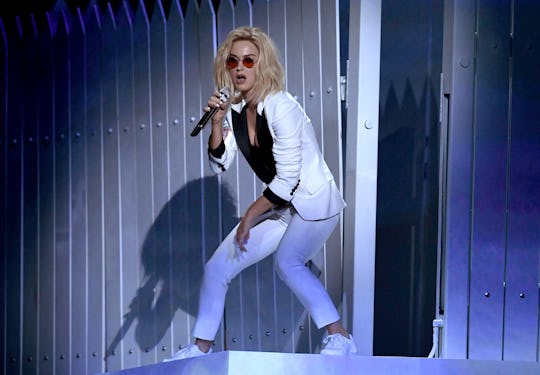 Kevin Winter/Getty Images Entertainment/Getty Images
Katy Perry's Channeling One Specific Woman RN
As politics continue to dominate headlines, music-lovers found solace (and some much-needed escapism) in the 2017 Grammys. While big names like Beyoncé (and her twins, of course), Lady Gaga, and Adele were assumed much-watch performances, Katy Perry's Performance at the 2017 Grammys didn't disappoint either. Honestly, are we even surprised? Hint: no, we're not. It was announced the Tuesday prior to the Grammys that Perry would not only perform, but debut her new single "Chained to the Rhythm." What wasnt predicatable, of course, was the political statement Perry would give during her performance. In other words, this beautiful performance was Perry saying, "I see you, United States. The world is garbage but at least you have this to hold you over, right?"
Perry took the stage wearing a white pantsuit with black trim which I, for one, would like to consider an homage to the one and only Hillary Clinton. She also wore a red armband that said "resist." She then went into a high-powered number, shimmying and walking across the stage as images of ocean was and dancing fire flashed in front and behind her. The stage moved in a circle throughout her performance and until Perry ended it by shouting, "No hate!" Yes, politics and entertainment are going to be intertwined for quit some time, my friends, and you have President Donald Trump and his cabinet to thank for that.
While Perry's last album, Prism, came out in 2013, this isn't Perry's first Grammys rodeo. She has made a name for herself as a show-stopping performer since her pop music debut. In 2011, Perry performed a high-powered medley of "Not Like The Movies" and "Teenage Dream." In 2012, decked out in spandex and sporting a blue wig, Perry performed "ET" before debuting "Part Of Me." In 2015, she debuted her hit-single "Dark Horse" with rapper Juicy J, in a witch-like, mystical performance that captivated the entire audience (and millions of viewers at home, myself included). In other words, Perry knows what she's doing not only when it comes to performing at the Grammys, but when it comes to debuting soon-to-be hit singles in a way that speaks to the current political climate.
Still, it seems that this 2017 Grammys performance is Perry's most politically charged yet. She even, for a brief moment, performed behind a white fence which, many, are saying is a jab to "The Wall" President Trump intends to build along the border of the United States and Mexico.
Perry's Grammys performance is just one more instance of artists speaking out against the current administration and, if nothing changes, I don't anticipate that changing anytime soon.