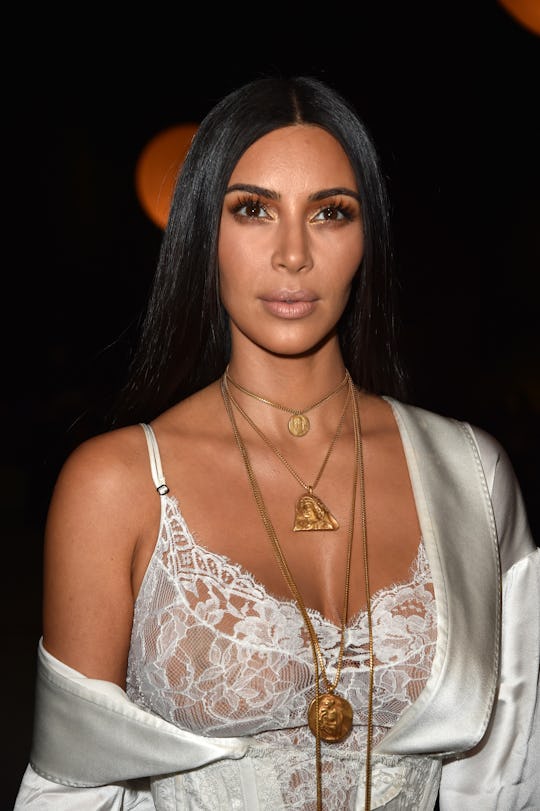 Pascal Le Segretain/Getty Images Entertainment/Getty Images
Is Kim Kardashian West OK After Being Held At Gunpoint In Paris? The News Is Scary
On Sunday night, fans learned that Kanye West had to abruptly end a concert at the Meadows Music & Arts Festival due to a "family emergency." Obviously, fans immediately started worrying about the Kardashian/West/Jenner family, and they had good reason, as it was revealed later on Sunday that Kim Kardashian West had been held at gunpoint while in France for Paris Fashion Week. There is no doubt that fans are wondering if Kim Kardashian West is OK after being held at gunpoint in Paris? Despite being shaken up, the media mogul is reportedly physically OK.
A spokesperson for Kardashian West told Romper, "Kim Kardashian West was held up at gunpoint inside her Paris hotel room this evening by two armed masked men dressed as police officers. She is badly shaken but physically unharmed."
Kardashian West is currently in France for Paris Fashion Week. She has been very active on social media throughout her trip, detailing the shows and the time she is spending with her family. West, who has been scheduled for The Meadows for some time now, was set for New York during the hold up.
On Sunday, fans took to Twitter to voice their feelings regarding West's quick departure during the festival. Some even captured the moment on video.
Neither West nor Kardashian West spoke out immediately following the news on Twitter, but they undoubtedly have more important things to attend to at the time. The good news is that Kardashian West is physically unharmed. There's no doubt, though, that the harrowing experience is something that will stick with someone.
The Kardashians are a very transparent family and often share personal details with their fans. It is something they have built a multi-million dollar empire on. When the time is right, hopefully Kardashian West will be comfortable telling fans about her experience.
For their part, West and Kardashian West's fans have spoken out with immense support for both the rapper and the media mogul.
While the experience is undoubtedly scary, Kardashian West is thankfully physically OK following the incident.