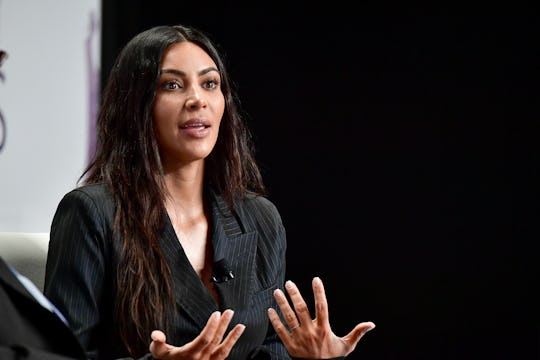 Dia Dipasupil/Getty Images Entertainment/Getty Images
Is Kim K's Kid's Clothing Line Available In Stores?
Although allowing fans access to their lives generates much of the Kardashians' fame and fortune, á la their hit reality series Keeping Up with the Kardashians, they also thrive on the air of exclusivity afforded to the very wealthiest of mega-celebrities. Case in point: Kim Kardashian's kids' clothing line isn't available in stores — and the pieces sell out fast on the one website where you can snag them. Yes, it's true: On Wednesday, Kardashian announced new items from the line, Kids Supply, which she designs with husband Kanye West, will be available Monday.
Unfortunately for trendy moms and dads who want to deck out their own kids just like the couple's, North and Saint West, there won't be an unlimited supply of Kim and Kanye kids' garb at your local Target or Macy's. The Kids Supply line first launched back in May, and its repertoire of slip dresses, mini chokers, jogger sets, baseball hats, etc. were available exclusively on TheKidsSupply.com And — surprise, surprise — it wasn't long before anyone who wanted to score the adorable pint-sized looks for their little ones had to scramble before the inventory was totally depleted.
If you visit the site right this second, all you'll see is a prompt to enter your email address for updates. Presumably, doing so will ensure that fans are alerted as soon as the new merch drops Monday. Because, once again, the Kids Supply stuff will be available only on its website.
Among the new garb on the line is a pair of kids' Yeezy sneakers, as Kardashian teased on Twitter Wednesday. Of course, Yeezys, which make up Kanyes own sneaker line, are notoriously hard to get in any size. Parents who hustle over to the Kids Supply Monday will have the chance to purchase a customizable pair, complete with their kid's name. Pretty cool, right? Something tells me that if you're lucky enough to get the shoes (or anything else in the line), there won't be many other kids in their class wearing the same ones, anyhow. It's designed to be an exclusive club.
Very little happens in Kardashian's orbit without a little bit of drama, and that's true even when it comes to kids' clothing. The sneak preview of the clothes she shared stirred up some consternation online, as some believed that the silky leopard print dress was a bit too sexy for children.
Even if some people were outraged, though, I think it's safe to say that those dresses, along with the rest of the merch, will sell out in no time.