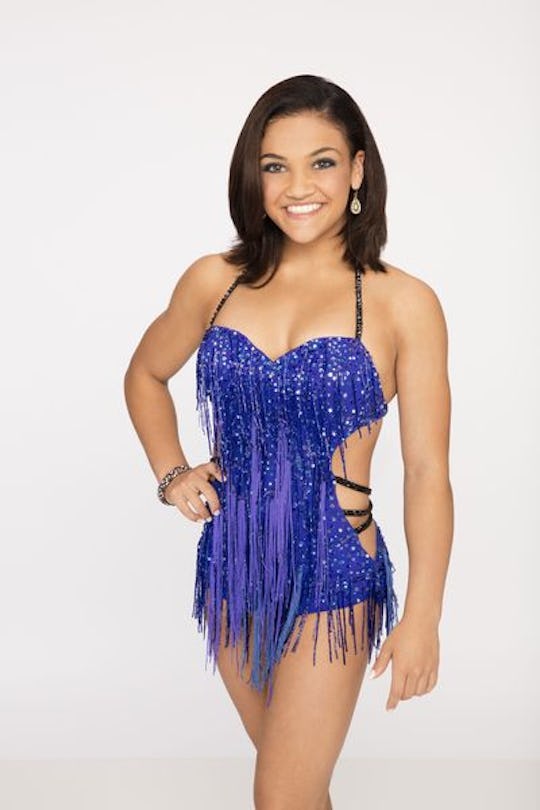 Craig Sjodin/ABC
Is Laurie Hernandez Single? 'Dancing With The Stars' Is Keeping Her Busy
It's no secret that this season's cutest Dancing With the Stars contestant, Laurie Hernandez, hasn't had totally normal teen years. She's homeschooled, so she never went to prom or pep rallies or any of that stuff. But what about other teen things such as dating, though? Is Laurie Hernandez single? Dancing With the Stars has been keeping her busy, and somehow I doubt she has a lot of time for dating right now.
From interviews with Laurie before the summer Olympics in Rio, I can tell this lady has a ridiculously busy schedule. When she's training, Laurie spends five to six hours a day training in the gym, six days a week. Keep in mind, this is before schoolwork, meals, and, you know, other necessary things like sleep, for instance. It doesn't sound like that leaves a whole lot of time for dating, in my opinion. And even though the Olympics are over, meaning she's no longer doing heavy-duty training like before, now she still has tons of press events and traveling to do. And, oh yeah, not to mention that she's also been competing on this dance show called Dancing With the Stars. (Maybe you've heard of it?)
A little internet sleuthing pretty much confirms what you could already guess. Laurie doesn't appear to have any special romantic ties with anyone in particular at the moment. But let's remember she's only 16. Girlfriend has plenty of time.
Laurie is a pretty prolific Instagrammer, and her account is filled with pictures of her with her gymnastics teammates, of her and Val being silly and generally goofing off, as well as snaps from her competitions and some pictures with her family. There's no sign of any romantic partner. But it does look like Laurie has a fantastic life filled with people who love and admire her, which at this point is basically all of America.
Throughout the competition, Laurie has pretty adorably steered clear of anything that requires her to be kind of sexy, as this usually just makes her erupt into a fit of giggles. My personal favorite from these moments was when she was learning her "Cell Block Tango" dance, and the instructor was demonstrating how to seductively run her hands along Val's chest and Laurie said, "Like you're rubbing peanut butter on him!" Yes, Laurie, peanut butter.
But the main takeaway here is that as impressive as Laurie's career has been, she's still kind of a kid and has plenty of time for romance in the years to come. For now, though, Laurie can just focus on what's really important — herself!