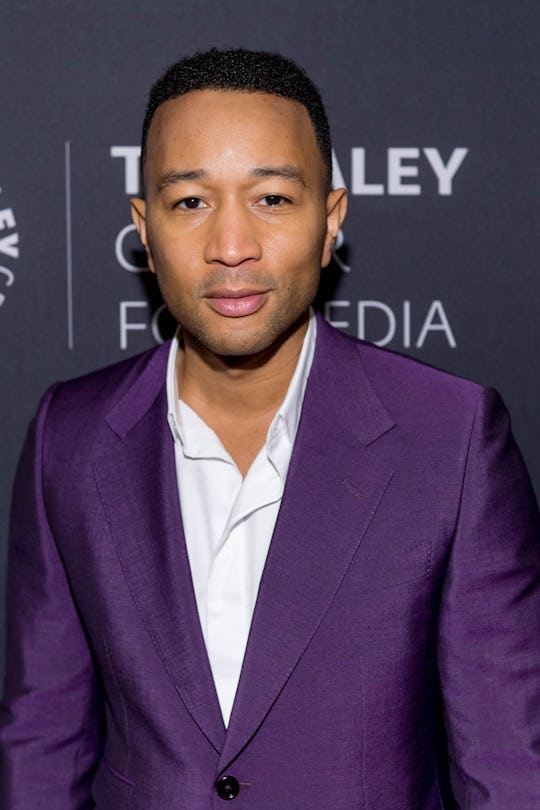 Roy Rochlin/Getty Images Entertainment/Getty Images
Luna May Not Be Watching John Legend's Performance On 'Jesus Christ Superstar Live!' & Here's Why
It's one thing to have famous parents. It's another when your dad is Jesus Christ (on stage at least). But this is the reality of Chrissy Teigen and John Legend's toddler daughter, Luna, now that Legend is about to star in NBC's next big musical production. But how much of this will his daughter actually see? Is Luna watching Jesus Christ Superstar Live!? The live show will air on Sunday, April 1 to coincide with Easter Sunday, and based on the cast alone it is sure to be an incredible production. But is it really toddler-friendly?
The show airs at 8 p.m. EST and will be broadcasting live from the Marcy Armory in Williamsburg, Brooklyn. Considering the show is scheduled to run for well over two hours, two-year-old Luna would have to stay up past 10 p.m. EST to watch the whole thing. I don't actually remember what time my bedtime was when I was that age, but I think it was sometime around 7 or 7:30. But then again I never got to watch my parents perform in live musicals. Still, at two years old, it's likely that Luna would be more interested in watching Doc McStuffins rather than watching her dad sing some songs on a stage, especially since I feel like hearing him sing has to be an almost daily occurrence in their household.
It also doesn't sound like the venue will be very kid-friendly for the live audience. In an interview with Variety, stage director David Leveaux said that the space was designed to look more like a rock show than a musical. The theater won't look like a traditional theater for musicals, but instead will be in an amphitheater-like setting including a moving mosh pit to make it more like a true rock opera. Mosh pits aren't generally known for being kid-friendly or appropriate, but if Luna was in attendance she'd probably get a special accommodation.
Whether or not she is at the live performance, at least it's clear that she's gotten some exposure to her dad in the leading role. Legend posted on his Instagram account a picture of himself holding his adorable daughter on the set of the show, where she was visiting him during rehearsals. "Luna's on set!" he captioned the cute photo, in which he's kissing her on her forehead. So maybe she won't be at the actual live performance, but I bet she at least got a little teaser. And she probably gets to sit-in while Legend practices at home too. I'm not jealous or anything.
So maybe she's there and maybe she's not. Perhaps she won't be there in person, but will catch a couple of numbers on TV, since it'll be airing live for all to see. But even if she doesn't get to see it in real time because she's still a kid, there are always recordings. Because the whole thing is obviously being filmed there are several ways to save it for her to watch at a more reasonable hour for babies. Then again maybe she's on a different sleep schedule. I don't know, I'm not the kid's nanny. What I do know is that at least at some point, she's likely to watch the show.
Whether or not Luna is watching, I have a hunch Chrissy Teigen will most definitely be tuning in. Teigen is actually one of the few celebrity Twitter accounts I actually follow for the simple reason that she's hilarious and relatable and somehow makes you feel like you're her best friend even through the internet. She also clearly has a loving, strong relationship with her husband. So it would make sense if she was in the audience to support him or watching from the comfort of her couch while live-tweeting her thoughts. Either way, I can't wait to see what she has to say.
Check out Romper's new video series, Romper's Doula Diaries:
Watch full episodes of Romper's Doula Diaries on Facebook Watch.