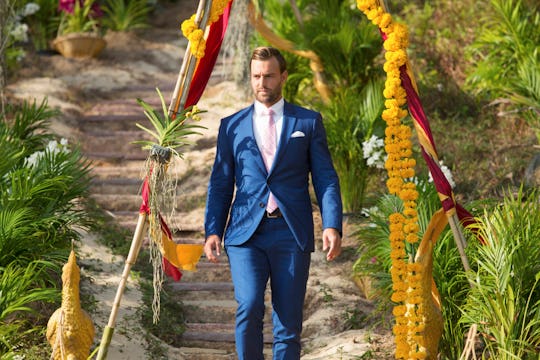 Matt Klitscher/ABC
Is Robby From 'The Bachelorette' Single? The Finalist May Soon Be On The Market
JoJo only has two guys left to choose from on the season finale of The Bachelorette and it all comes down to Jordan Rodgers and Robby Hayes. While Jordan was definitely an early favorite, he's since revealed some troubling commitment issues that have JoJo worrying about whether he can stick it out with her long-term. Meanwhile, Robby dropped the L-word super early on in the season (which many were quick to judge as thirsty) and JoJo seems to appreciate his forthcomingness, but he came on the show suspiciously soon after his last breakup. So is Robby single now? Here's what we know.
Just before coming on the show, Robby was in a four-year long relationship with a woman named Hope Higginbotham, who is often branded as a JoJo look-alike. They broke up in December, just a few months before Robby started filming The Bachelorette. As soon as he broke the news of this to JoJo, she immediately began worrying that he wasn't over his ex, and rumors began flying that Robby broke up with his girlfriend just to be on the show. According to Robby, the couple had been in the process of breaking up for about eight months, and December was simply when they finally made a clean break. JoJo seemed to trust his version of events, and considering that Hope has since been romantically linked to Chad, of all people (yes, that Chad), it's unlikely she and Robby got back together, even if he weren't to get that final rose from JoJo.
Of course, since he's still technically in the running to be JoJo's hopeful fiance, Robby hasn't been posting on social media flaunting any new flames. It's possible that this is simply because he's been sworn by ABC to remain romantically ambiguous in public (lest he reveal any finale spoilers). But it also seems like Robby is for sure single. The ex-college swimmer doesn't feel like enough of a fan favorite to become next season's Bachelor (Luke certainly courted the most fan appreciation on the "Men Tell All" special), especially with all the controversy surrounding his appearance on the show. But maybe after a four-year-long relationship, followed by a shot at TV romance, it's best for Robby to be single for awhile. That said: I wouldn't put him past a Bachelor in Paradise Season 4 appearance.