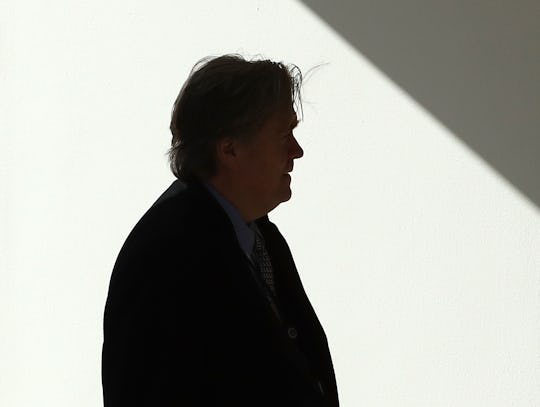 Mark Wilson/Getty Images News/Getty Images
Trump Reportedly Thinks Steve Bannon Was The White House Leaker
Steve Bannon is out at the White House, according to The New York Post. President Donald Trump's Chief of Staff John Kelly has finished a review of the West Wing staff, and is expected to oust the former Breitbart editor. There are a few theories about why Bannon was removed from his position, and chief among them is a huge allegation that Bannon was the White House "leaker." Here's all the evidence we have so far. A representative for Bannon did not immediately respond to Romper's request for comment regarding the allegation.
The New York Times reported Friday that Trump told senior aides that he has decided to remove Bannon — the current White House chief strategist — according to two administration officials. Now, Trump and senior officials in the White House are debating how to dismiss Bannon. The administration officials warned, however, that Trump could decide to keep on Bannon for awhile, so when Bannon will leave is still up in the air.
According to a different New York Times article, on Tuesday, Trump refused to guarantee the security of Bannon's strategist role. The publication reported that Trump said of the advisor:
We'll see what happens with Mr. Bannon.
Which is a little bit foreboding, to say the least.
Though sources like Variety reported that Bannon clashed with several other Trump advisors — including Gary Cohn and Trump's son-in-law, Jared Kushner. Those clashes, along with the possibility that Kelly didn't approve of Bannon and that Bannon was "on thin ice in the Trump White House" might be among the reasons for Bannon's departure from Trump's team, according to Vox.
But Bloomberg reported that there could be an even bigger reason: there have reportedly been "perceptions" Bannon was actually behind leaks to the media that have Trump so rattled. The New York Post reported that that suspicion is now shared by Trump himself.
According to The Hill, in an appearance on CBS's The Late Show with Stephen Colbert, Colbert asked former White House Communications Director Anthony Scaramucci about leaks at the White House, and who he thought was responsible for them. Colbert eventually asked Scaramucci, "Is it Steve Bannon?" and Scaramucci replied:
Well, I've said that. Listen, I've been pretty open about that.
And when Colbert continued his line of questioning by asking, "Is Steve Bannon a leaker?" Scaramucci answered:
I said he was. And I obviously got caught on tape saying he was, so I have no problem saying that.
So at least one person who's been in the thick of things on the president's team, however briefly, believed Bannon was one of the "leakers" at the White House that the administration has been trying to crack down on.
Axios reported on Aug. 12 that Trump had told close associates that he believed Bannon was behind leaks about the White House and Bannon's colleagues there, and that Bannon's job was in jeopardy as a result of that.
According to Axios, Trump has been "frustrated" with Bannon before, but that he didn't have an easy way to get rid of the strategist. The suspicion that Bannon is possibly leaking information to the press isn't limited to Trump, either. The Daily Mail reported in June that MSNBC's Morning Joe co-host Joe Scarborough claimed that Bannon was behind a series of leaks about Kushner's alleged ties to Russia, in particular.
We may not ever know for sure whether Bannon is the White House leaker, or one of several, unless he outright admits to it. But it seems that Trump's suspicion that he might be the culprit was reportedly enough to finally remove Bannon from his position, and from the White House.