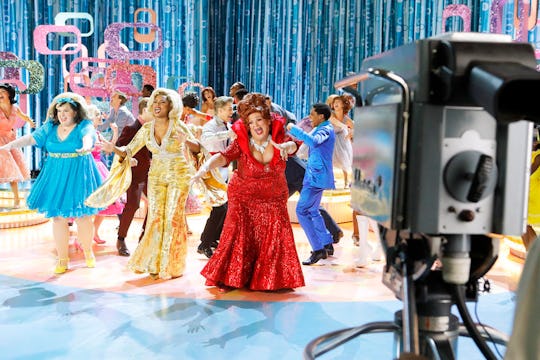 Trae Patton/NBC
Is The 'Hairspray Live!' Soundtrack On Spotify? It Will Likely Be Available Soon
NBC first reinvigorated their live TV musical game (over 50 years after broadcasting the 1960 version of Mary Martin's Peter Pan) with 2013's The Sound of Music Live! and has been on a roll ever since. The latest entry to NBC's ever-growing live musical slate is Hairspray Live!, starring big names like Harvey Fierstein, Jennifer Hudson, Kristen Chenoweth, Ariana Grande, Derek Hough, Dove Cameron, and newcomer Maddie Baillio. Fans of the oft-adapted musical are eagerly awaiting the live musical's premiere, but is the Hairspray Live! soundtrack on Spotify already?
Unfortunately, it doesn't appear that the soundtrack has landed on Spotify yet. But there is some good news for fans who want to hear their faves take on the iconic songs ASAP – the Hairspray Live! soundtrack will be released on December 2, a full five days before the live broadcast on December 7. The cast album is currently available for pre-order on Amazon and on iTunes. Of course, since it's being released prior to the live musical's broadcast, the songs included on the soundtrack will be studio recordings of the same songs that the cast will sing during the live show. In all likelihood, that means there will be minor, if any, deviations from the live broadcast.
Here's the full track-list, to get you pumped for the upcoming album and live broadcast:
1. "Good Morning Baltimore"
2. "The Nicest Kids in Town"
3. "Mama, I'm a Big Girl Now"
4. "I Can Hear the Bells"
5. "(The Legend of) Miss Baltimore Crabs"
6. "Ladies' Choice"
7. "It Takes Two"
8. "Velma's Revenge"
9. "Welcome to the 60's"
10. "Run and Tell That"
11. "Big, Blonde and Beautiful"
12. "(You're) Timeless to Me"
13. "Good Morning Baltimore (Reprise)"
14. "Without Love"
15. "I Know Where I've Been"
16. "(It's) Hairspray"
17. "Cooties"
18. "You Can't Stop the Beat"
19. "Come So Far (Got So Far to Go)"
Personally, I'm beyond psyched to hear Chenoweth's Velma sing "(The Legend of) Miss Baltimore Crabs," and, of course, Hudson on "I Know Where I've Been."
While this is obviously no guarantee that the music will land on Spotify, past live TV musicals are a good indication that the show's music will, at some point, be landing on the music streaming service. Currently, Spotify has the full soundtracks available for The Wiz Live!, Grease Live!, and The Sound of Music Live!. Neither Peter Pan Live! or Fox's non-live Rocky Horror appear to have made it onto Spotify yet.
If NBC's live adaptation of Hairspray Live! is the huge hit we're all expecting it to be, chances are the musical's new soundtrack will land on Spotify sooner rather than later.