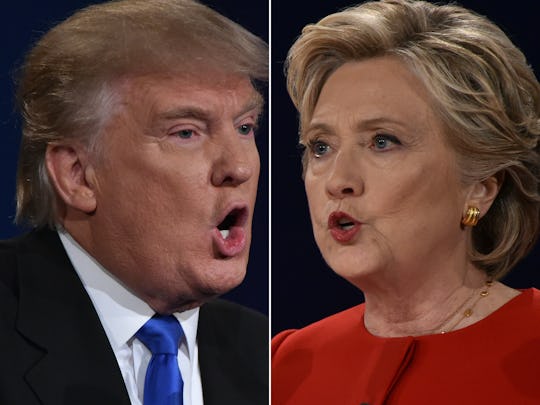 PAUL J. RICHARDS/AFP/Getty Images
Is The Second Presidential Debate Still Happening? Donald Trump Is Losing Party Support
Donald Trump has found himself in hot water just one day before the second presidential debate after an unearthed video from 2005 exposed the Republican candidate using horrifically graphic language to describe how he would use his celebrity status to force himself upon women. After the video hit headlines on Friday, many in the Republican party have expressed their outrage and have even called on Trump to drop out of the race. Even more, the timing of this heated aftermath may have many questioning if the second presidential debate is still happening, which is scheduled for tomorrow — Sunday, Oct. 9.
Even though Trump continues to lose his party's support on the eve of Sunday night's debate, the GOP nominee has announced that he will still be participating. "See you at the debate on Sunday," Trump concluded his apology for the video on Friday evening, in which he dismissed his lewd comments as "locker room banter" and as a "distraction" from larger issues.
The Republican candidate has also vowed that he will never step down as his party's presidential candidate. "I'd never withdraw. I've never withdrawn in my life," Trump told The Washington Post on Saturday. "No, I'm not quitting this race. I have tremendous support."
Sunday night's debate will take on a different format than what voters have seen before. The candidates will answer questions directly from voters at the town-hall style debate, so this latest example of vulgar and misogynistic comments made by the GOP nominee are expected to be featured.
And even though Trump has no plans to drop his presidential bid, the Republican National Committee has reportedly put a halt to some of the "Victory" program operations, a project devoted to electing Trump. According to Politico, lawyers are now looking into the party's options to replace the 70-year-old real estate developer and former reality television star as the Republican nominee just one month before Election Day.
"People in the GOP are understandably nervous. People are looking for an escape," a partner at the Jones Day law firm Ben Ginsberg told NPR. "The rules don't provide a ready-made escape."
Ginsberg continued, "The RNC rules allow for replacement of a candidate on death or declining the nomination, but no provision for replacing. At this stage, Donald Trump would have to resign. There's no way to stage a coup."
Meanwhile, a growing list of Republicans have since condemned Trump's comments while others have demanded he drop out of the race altogether. Carly Fiorina, who lost to Trump in the GOP primary, called for Trump's running mate Mike Pence to take his place while Speaker of the House Paul Ryan said he was "sickened" by Trump's comments and called off plans to campaign with the Republican candidate.
Despite this unprecedented criticism, Trump is still reportedly preparing for Sunday night's debate against his rival Hillary Clinton. Trump told the Wall Street Journal on Saturday the he plans to spend the day "preparing and studying" for his second face-off with the Democratic nominee.
Voters will have to wait until Sunday night at 9 p.m. to see how much of impact or a presence the latest revelation of misogynistic comments made by Trump will make at the second presidential debate. Considering the level of outrage, it's a safe bet that viewers will be paying very close attention because the stakes are higher than ever.