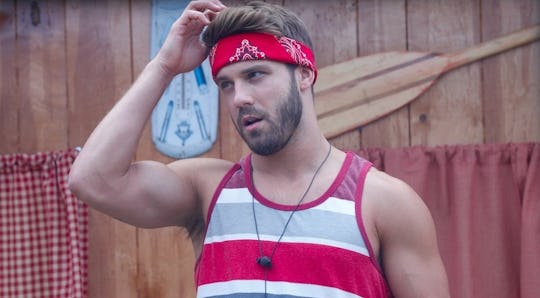 CBS
Is There A Jury Buyback On 'Big Brother 18'? It May Be The Way To Keep Paulie In The Game
The only thing more exciting on Big Brother than a double eviction night is one dedicated to a jury buyback. But is there a jury buyback on Big Brother this season? So far, we're up to schedule with the amount of houseguests who have been evicted and the number of evictions we've had. But this whole round trip ticket deal is what will determine if we need a jury buyback this season. The last eviction on Big Brother 18 gave us a house devoid of two houseguests and the knowledge that there is going to be a special Friday night episode, leading fans to speculate on what that means for the game.
If Paulie gets evicted Thursday night and it turns out that he doesn't have the ticket, that could mean a jury buyback next week since it would be able to include five jurors, as it has in the past. It's no secret that Paulie has been something of a strong presence in the Big Brother house this season, and as much as he irks pretty much everyone at this point, you kind of have to love the drama and tears that come with him. So if he gets sent packing, the buyback is the perfect opportunity to bring back Paulie without it seeming like a fixed game with the round trip ticket scheme.
While having a jury buyback would be kind of amazing, especially with Paulie tossed in with the current jury members we have, there is also so much more that might be focused on in Friday's special episode of Big Brother. Since this season has been particularly scandalous, there is Paulie crying on and off on the live feeds, the return of the Zingbot, and plenty of other scheming that was done in the house for viewers to use an extra episode to catch up on. But I think we're all in agreement that it would just be rude for them to waste an entire episode on that when they can use it to do a jury buyback.
When the houseguests were explained the rules of the one-way and round trip tickets, they were also informed that if no one has the round trip by August 18, then the rest of them will be voided and the promotion of sorts will be over. With the next Big Brother eviction scheduled for August 18, having a special episode the following night makes perfect sense. When the evicted guest (presumably, Paulie at this point) doesn't have the round trip ticket, it will possible and necessary for Big Brother to give us the jury buyback competition the following night.
If there is a jury buyback on Big Brother this season, now is the perfect time to present it to us. Most of us are still riding on the high from the double eviction night, so before we completely come down, a jury buyback is the next logical way to go.