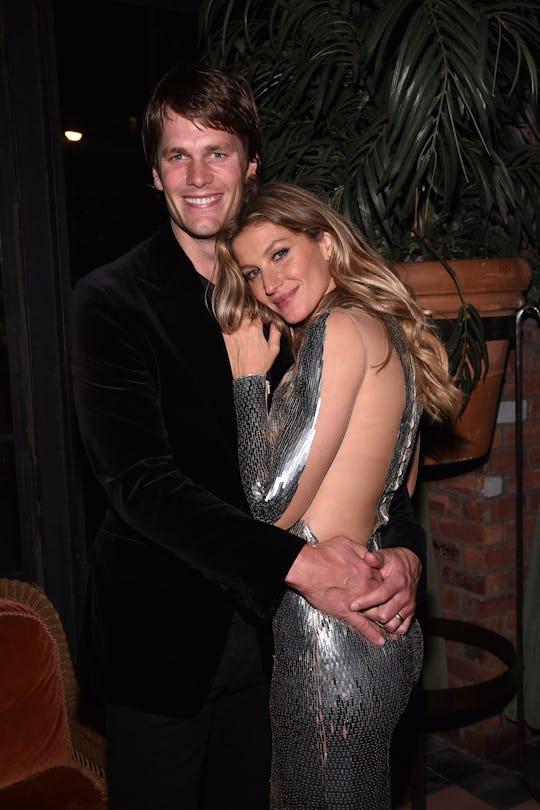 Bryan Bedder/Getty Images Entertainment/Getty Images
Is Tom Brady At The Rio Olympics Opening Ceremony? Gisele Appears For Her Last Catwalk
The 2016 Summer Olympics officially kick off in Rio on August 5, and showcased among Brazil's greatest contributions in opening ceremony will be Brazilian supermodel Gisele Bündchen. She'll have her own starring moment in the show as she delivers a catwalk down "the world's longest runway," set to the song "Girl From Ipanema." Although both her children — Benjamin, 5, and Vivian, 3 — with New England Patriots quarterback Tom Brady will be in attendance, football fans might be wondering, is Tom Brady at the Rio Olympics opening ceremony?
Early reports indicated no. According to People, Brady is "stuck back home in Boston, where he's already in training for the Patriots' upcoming season." But Bündchen also headed down to Rio early with the kids, both to rehearse the opening ceremony and to hang out with her family who still lives in Brazil.
"Definitely to see my family is the best thing I get to do when I am in Brazil," she said in an interview. "Most of my family will be here for the ceremony."
In spite of the fact that appearing in the opening ceremony of the Olympics is a once in a lifetime opportunity, Brady wasn't spotted in attendance after all. Unfortunately, it looks like he really is stuck in Boston training.
His absence is an extra bummer, considering this is also Bündchen's so-called "last catwalk." After moving from rural Horizontina, Brazil to São Paulo to New York, and becoming the world's highest-paid supermodel in the process, Bündchen will be retiring from modeling after her opening ceremonies appearance. In spite of her runway retirement, however, she continues to run multiple businesses in Brazil and participate behind the scenes in Sao Paulo fashion week, giving her plenty of opportunities to visit her family back home with kids and husband in tow.
Naturally, Tom Brady's notable non-appearance at the opening ceremonies prompted one particular joke from all corners of Twitter...
This, of course, is a reference to Brady's four-game suspension following the now-infamous deflate-gate scandal — a decision which he has recently decided to stop appealing. But it sounds like he had a good day in practice today, too.
David Beckham probably didn't miss Victoria's historic appearance at the 2012 London Closing Ceremonies, though, bro. Just saying.