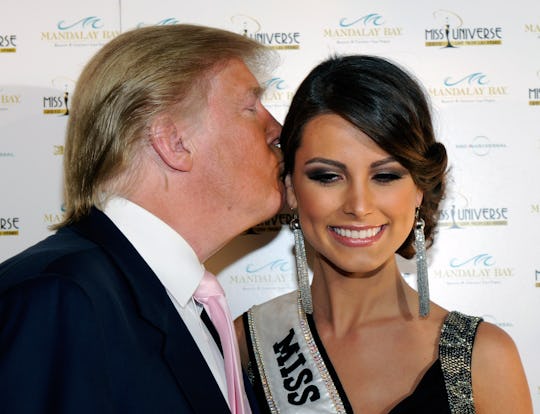 Ethan Miller/Getty Images Entertainment/Getty Images
Is Trump Involved In Miss Universe?
Among all the things that real estate mogul and current president Donald Trump owns, his ownership of several international beauty pageants has perhaps gotten him the most flack over the last decade. Of course, it wasn't Trump's ownership of the pageants so much as his conduct. Is Trump involved in Miss Universe? He owned the pageant, and others, until 2015 when he sold them to focus on his presidential campaign.
Trump's involvement in not just the Miss Universe pageants, but Miss USA and Miss Teen USA which he also owned, came back to haunt him during his campaign when several former contestants alleged that he had sexually harassed them. Most of these allegations were said to have occurred during the pageants, often back stage.
Trump has maintained that his turnaround of the organizations was one of his most successful business ventures. That being said, his reputation amongst pageant contestants and those in the inner circle of the pageant world itself hasn't been so great. Allegations of several varieties of creepiness came from former contestants who claim Trump would barge into their changing rooms while they were undressed, "inspected" the contestants' bodies, and engaged with them physically or verbally in ways that were inappropriate. Most of the contestants were, at the time, in their teens or early 20s, so some of them were actually underage.
While Trump's representatives, now administration, have consistently refuted the allegations, the sheer number of women who have accused Trump of sexual harassment and assault has not gone unnoticed. After he purchased the pageants more than a decade ago, he told Vanity Fair that when he bought the Miss Universe pageant, "the bathing suits got smaller and the heels got higher and the ratings went up." Implying that increasing the sexually exploitative nature of the pageants in an attempt to make them more monetarily successful had been his intention from the beginning.
As the pageant's owner, Trump spoke openly about his sense of entitlement when it came to inspecting the goods, if you will. That is to say, the women:
You know, no men are anywhere. And I'm allowed to go in because I'm the owner of the pageant. And therefore I'm inspecting it... Is everyone OK? You know, they're standing there with no clothes. And you see these incredible-looking women. And so I sort of get away with things like that.
When Trump got serious about his presidential bid, he sold off a number of things that could be considered a conflict of interest. The sale of not just the Miss Universe pageant, but Miss USA and Miss Teen USA as well, made sense in the context of his political aspirations. Of course, the sale of the pageant organizations also came after Trump had made derogatory, racist comments about Mexican immigrants, which prompted several major networks, including NBC, to drop their coverage of the upcoming Miss Universe pageant and end their relationship with Trump.
Despite no longer being the owner of the pageant, and therefore ceasing his involvement with them professionally, the too-personal reputation that he has within the pageant circuit has continued to make its way back to Trump, despite the fact that he's in the White House. While he may no longer have any influence over who is crowned Miss USA or Miss Universe, his current position of power to make much larger decisions about the USA and the international political landscape continues to unnerve many. After all, meeting and subsequently humiliating Miss Venezuela doesn't exactly count as experience in foreign relations.