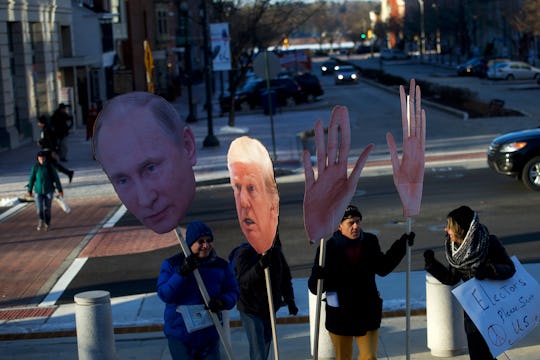 Mark Makela/Getty Images News/Getty Images
When Trump Meets With Putin, It Will Be Big
Russian President Vladimir Putin's name has been controversially tied to that of the United States' incoming president over the past few months, so it would make sense for Donald Trump's first meeting with a world leader to be with Putin himself. But despite reports over the weekend that the two would allegedly convene in Iceland shortly after the Jan. 20 inauguration, representatives from both camps are denying that there ever was such a tête-a-tête on either's agenda. Whether Trump is meeting with Putin imminently or at a yet-to-be-determined date, there's little doubt that the two will be in contact over the course of their respective presidencies — if they have not been already — and that any correspondence between them will have serious implications for both countries, and the world.
British newspaper The Sunday Times cited unnamed sources in reporting that Putin and Trump were planning on holding a summit in the Icelandic capital of Reykjavik "within weeks" of Trump's taking the Oath of Office, and that they would discuss limiting nuclear proliferation. But Trump's incoming White House press secretary, Sean Spicer, took aim at that claim on Twitter soon after, labeling the stories of American outlets that published the information as "not true" and "100% false." The Kremlin echoed that firm contradiction of news reports, stating that the two major world players were not at the meeting-planning stage, according to CBS News.
An eventual meeting between the two is all but inevitable, given the major role that Russia played in the vicious 2016 election and the threat many believes the formidable adversary continues to post. And to have these two in the same room is sure to make defenders of American democracy (and democracy in general) incredibly uneasy, as all 17 of the intelligence agencies believe that Putin was personally involved in orchestrating cyberattacks on political operatives close to Trump onetime opponent, Hillary Clinton, with the explicit goal of tainting her reputation with voters and swaying the election in Trump's favor. Agencies like the FBI, CIA, and NSA are also convinced that Putin and his people are out to destabilize the very concept of western democracy with these types of history-altering operations.
In response to long-running questions about the precise nature of Trump's relation with the Russian leader, Trump has waffled on the answer, once even bragging he knows Putin "very well," although his official line now is that they don't know each other at all. Either way, Trump's consistent, overt, and very public praise for the man widely regarded among many American lawmakers as "a murderer and a thug," as Republican Sen. John McCain recently called him, is striking.
Information in an explosive, unverified dossier reportedly penned by an ex-British intelligence agent that BuzzFeed published in full last week threw anxiety about whether Trump is taking orders from Putin into sharp and uncomfortable relief. The 35-page document alleges (without evidence that has been verified) that the Russian government has collected blackmail materials on the soon-to-be president, that Trump's campaign accepted intelligence from Russian officials throughout the election season, and that Russia was grooming him to take over the role for as long as five years.
Trump has vehemently rejected these serious accusations, blasting them in a tweet as "FAKE NEWS" and their dissemination in the media as "A TOTAL POLITICAL WITCH HUNT!"
Since that revelation, Trump has vowed to get tough on Russia, telling reporters at a news conference Wednesday that "Russia will have much greater respect for our country" when he is in charge than it has under previous leadership.
As for all talk of nuclear arms, the reported purpose of the maybe-not-happening meeting, Trump reacted to a Putin statement in late December that the country would strengthen its nuclear arsenal, according to Politico. Trump soon tweeted that this country "must greatly strengthen and expand its nuclear capability," a disquieting admission that some interpreted as a call for an arms race. And that's a topic that the two would likely touch on if and when they meet, as a treaty in which both countries agreed to limits on the sizes of their nuclear arsenals is will expire in 2021, The Washington Post reported. They'll also probably eventually hash out the additional sanctions President Obama levied on the nation in response to the hacking debacle.
Despite all the evidence that something extremely suspicious is going on between Trump and Putin, Americans can only hope that Trump no longer seeks to gain a "new best friend" in the Russian leader, as he tweeted he did in 2013. Improved relations with the country could be an admirable long-term goal, but not at the expense of the United States' democratic integrity.