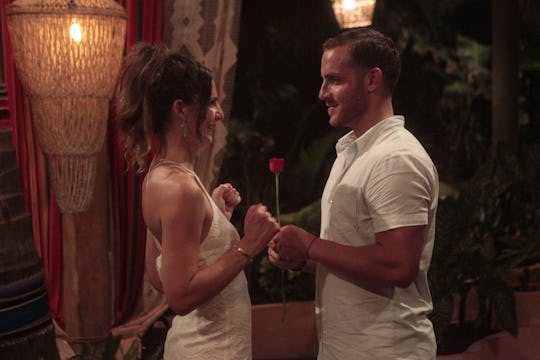 Rick Rowell/ABC
Is Vinny Dating Anyone After 'Bachelor In Paradise'? There Have Been Rumors
Even though all hope was not lost for Vinny on Bachelor in Paradise Season 3 after Izzy felt a fleeting connection with Brett Melnick, he fell on his sword pretty quickly after Izzy expressed interest in a new guy, and chose to go home immediately, rather than wait around for Izzy to sort out her feelings. A few weeks later, Brett hit it off with someone else and Izzy instantly regretted her decision. She tried her best to get back together with Vinny, but he still rejected her. So is Vinny dating anyone after Bachelor in Paradise?
Rumors were swirling around him and Izzy for a minute. Some sneaky Bachelor fans snapped photos of Izzy and Vinny on a flight together after the season wrapped, in which she was napping pretty cozily in his lap. This prompted speculation that they had gotten back together after all, in spite of his harsh rejection of her when she begged him for another shot as she was leaving paradise. TMZ caught up with the couple as they were leaving the airport, but they insisted that they were just friends.
Izzy cleared things up in an interview with HollywoodLife, saying:
"I was sleeping on his lap on the plane. He had a gig in AC, so he flew to NYC and I live here, it was just convenient. It wasn't a surprise. It wasn't a shock. We had planned to travel back together. We definitely created an unbelievable friendship there in this situation that not many people get to experience. We definitely have a close relationship. So we're friends."
For her part, Izzy spent the second-to-last episode airing of Bachelor in Paradise Season 3 Snapchatting from the couch of one Alex Woytkiw, AKA the gaucho-cosplaying marine from JoJo's season of The Bachelorette. They looked almost as cozy as Izzy and Vinny did on the plane, wearing Pokemon onesies and gossiping about the episode. Romantic speculation about Izzy and Alex is still flying around, but, truthfully, Bachelor franchise contestants hang out with each other all the time. Between attending Bachelor promotional events all the time and the fact that there are simply so many of them spread across the country that many of them live near each other, they often form a bond over the shared experience.
Vinny, however, hasn't let us in on any special lady in his life, either explicitly, or more subtly on his social media feeds. He's been spotted hanging out with other Bachelor franchise ladies, of course, but nothing special has stuck out just yet. Maybe his mom simply needs to entreat one of them as zealously as she did JoJo during her "After the Final Rose" special.