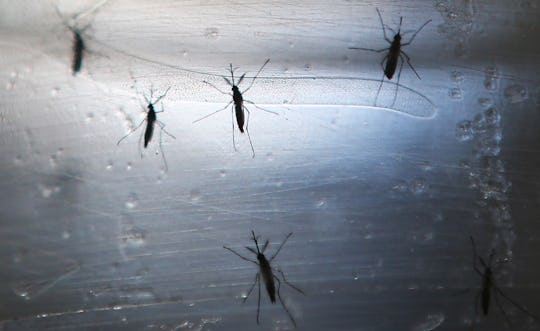 Mario Tama/Getty Images News/Getty Images
Is Zika In Puerto Rico? The Virus Has Been Called "A Silent Epidemic"
With the first cases of locally-transmitted Zika virus now confirmed in two southern Florida counties, the once-hypothetical threat of a Zika outbreak in the continental United States seems to be much more of a reality. According to CNN, Florida health officials announced Friday that four cases of Zika in Miami-Dade and Broward counties have been linked back to local mosquitoes, unlike previous cases in the state, which were related to travel or sexual transmission. That reality is pretty daunting for anyone living in Florida or planning to visit, but an even more concerning reality is that Zika is already a huge problem in U.S. territories. Is Zika in Puerto Rico? Local transmission is an issue, and it doesn't look like it will be getting better anytime soon.
In fact, according to USA Today, The Centers for Disease Control estimates that up to 10,000 pregnant women in Puerto Rico could contract Zika this year, meaning that their babies could be at risk for devastating birth defects like severe microcephaly. CDC director Thomas Frieden estimates than 1 in 4 people on the island will be affected by Zika, which also means an increased risk for cases of Zika-related complications like Guillian-Barre syndrome, which can cause temporary or permanent paralysis. Frieden called the virus a "silent epidemic that is rapidly spreading through Puerto Rico."
According to an updated report by the CDC released on Friday, Puerto Rico has seen a continued increase in the number of Zika cases since the virus was first discovered there in November 2015. But recent findings are showing that the problem is getting much worse. The number of pregnant women with either a confirmed or suspected case of Zika jumped from 8 percent in February of this year to 41 percent in June. And in the rest of the population (at least, the population showing actual symptoms), the cases rose from 14 percent to 64 percent. Since not all individuals infected by the virus show symptoms however, the actual numbers are unknown.
One reason why Zika appears to be getting so out of hand in Puerto Rico? Frieden said that prevention techniques, like staying inside air conditioned buildings, or behind screened windows and doors, isn't an easily accessible option for many. He also noted that heavy tropical rainfall can leave standing water that is prime mosquito breeding ground, according to USA Today, and that the Aedes aegypti mosquito (aka the primary Zika vector), is resistant to common pesticides.
Given the situation in Puerto Rico, the CDC has given the island a "Level 2" travel alert status, which means that, while travelers aren't discouraged from visiting, they are encouraged to "practice enhanced precautions." This means taking steps to prevent mosquito bites as much as possible, by covering exposed skin, using EPA-registered insect repellent, sleeping under mosquito netting if air conditioning and/or window screens aren't available, and using condoms or abstaining from sex to prevent sexual transmission of the virus.
Further complicating the situation is that Congress still has not been able to agree on an appropriate plan for further funding to help fight Zika transmission and to develop a series of vaccines. Despite a February request from the White House for over $1 billion in funding for Zika, a mid-July vote in the Senate to provide extra money failed, and Congress will not be able to act further until returning from its summer recess in September, according to TIME.
On the Republican side, Senate majority leader Mitch McConnell accused Democrats of "worrying...about pleasing outside political groups," more than it did of voting in favor of the proposed funding bill, while, Senate Democratic leader Harry Reid argued that the Republicans were using the virus as a way to get Democrats to concede on other issues (some of the conditions of the funding would have included agreeing to reduce funding for Planned Parenthood, cutting parts of the Affordable Care Act, and allowing Confederate flags in military cemeteries, according to TIME).
Of the Republican bill, Illinois Sen. Dick Durbin said, according to The Wall Street Journal,
It is one of the most cynical ploys I've seen on a life and death issue in the time that I've served in Congress. As the Republican leadership fails to act in Washington, there are victims appearing all over the United States and certainly in Puerto Rico.
Unfortunately, without an agreement, it definitely doesn't appear as though much progress will be made before September, and that's bad news not only for Puerto Rico, but also for Florida, and other other states who may discover locally-transmitted cases of the Zika virus before then. In the meantime, it still looks as though personal mosquito control and protection efforts will be the most important things that individuals can do to try and keep them — and everyone else — as safe from the virus as possible.