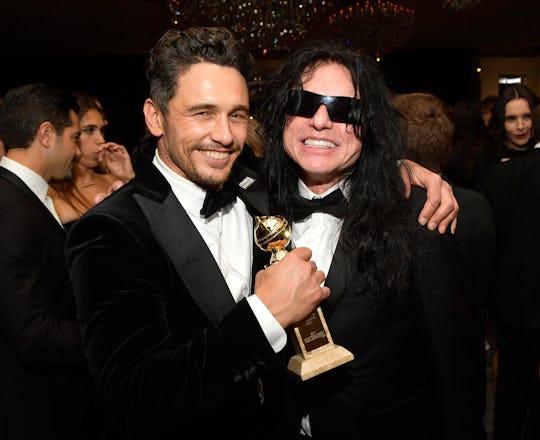 Matt Winkelmeyer/Getty Images Entertainment/Getty Images
James Franco Didn't Win A SAG Award & Twitter Has Thoughts
The competition was tough for Outstanding Performance by a Male Actor in a Leading Role at the 2018 Screen Actor's Guild Awards, and any of the nominees could have easily taken home the honor. Some predicted James Franco would win for his performance in The Disaster Artist, but it didn't turn out that way. James Franco didn't win a SAG Award, and Twitter had some thoughts about that.
The Disaster Artist had received a lot of positive press, and Franco won other awards for his work in the film. He was awarded the Golden Globe for Best Actor in a Musical or Comedy. But Gary Oldman was predicted to win over at Gold Derby, and he'd snagged the Globe for Best Actor in a Drama. It seemed to come down to the two of them, and Oldman won the SAG Award in the end. But some viewers were still curious what a Franco win would have been like because of his recent controversy.
Five women have accused Franco of what the L.A. Times deemed "inappropriate or sexually exploitative behavior." The New York Times cancelled an event with him because of the controversy, too. Franco addressed the allegations on both The Late Show with Stephen Colbert and Late Night with Seth Meyers. He told Colbert:
The things that I heard that were on Twitter are not accurate, but I completely support people coming out and being able to have a voice because they didn't have a voice for so long. I don't want to shut them down in any way. If there's restitution to be made, I will make it. If I have done something wrong, I will fix it. As far as the bigger issues... I'm here to listen and learn and change my perspective where it's off.
Franco reiterated his stance when he spoke with Meyers, saying again that the tweets were "not accurate." He added that he supported Time's Up and that was why he wore the pin at the Golden Globes. "This is a conversation that obviously needs to be had," he said. "There are people, women and others, who have not been a part of this conversation and I truly believe that they need to be. So I support that."
Romper has reached out for comment and has not received a response at this time.
Many users on Twitter just wanted to see what would happen if Franco won the award and had to give a speech. Would he bring up the allegations or ignore them? Ultimately there's no way to know how it would have played out, because Franco didn't finish the night a winner. He might have declined to discuss the issue, or he could have repeated what he said on the late night talk show circuit. Viewers can never be sure how it would have gone.
Some even thought Franco was relieved that he didn't have to make the call about whether or not to bring up the accusations, but at the end of the day that's just speculation. Unless Franco himself shares what he was feeling in that moment, it's hard to make a guess.
Other fans believed that Franco was snubbed. Even if they appreciated Oldman's work in Darkest Hour, they thought Franco deserved the honor more. That's a totally objective opinion, however, and both performances received praise from critics.
There were also people in the audience who were pleased Franco didn't end up winning the category. The allegations have certainly soured opinions about him for quite a few, and it can feel like it adds insult to injury to see someone accused of alleged inappropriate behavior be given accolades. Franco may have said the allegations weren't accurate, but those who believe the victims definitely wouldn't have been happy about the possibility of him winning. Some Twitter users didn't even appreciate that the crowd applauded Franco when his name was called among the other nominees.
Others expressed surprise at the fact that Franco attended at all. Regardless, Franco may have been a winner at the Golden Globes, but he wasn't so lucky at the SAG Awards.
Check out Romper's new video series, Romper's Doula Diaries:
Watch full episodes of Romper's Doula Diaries on Facebook Watch.