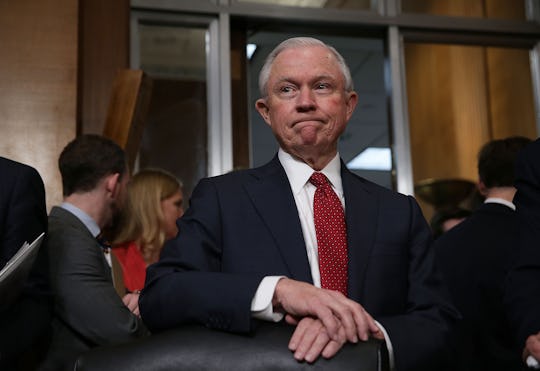 Alex Wong/Getty Images News/Getty Images
Jeff Sessions Is Officially Attorney General
Constituents all over the country inundated their senators with calls imploring them to vote against him. Progressives across the board condemned what they perceived as his opposition to minorities' civil rights. But on Wednesday night, following divisive debate among lawmakers, Jeff Sessions was confirmed as attorney general. It's a major blow for civil rights activists and advocates of equality, but there you have it: Donald Trump's latest controversial Cabinet pick won over the Senate. Democrats filibustered throughout the night on Tuesday in an attempt to convince some of their Republican colleagues to oppose him, but in the end, none did: The Alabama senator secured his new post with a nearly party-line vote of 47-52, according to The New York Times.
Many of Trump's Cabinet appointees have riled up progressives who claim Trump's picks are unqualified or even fundamentally opposed to the missions of the departments they've been tapped to lead. But Sessions' nomination proved an especially contentious flashpoint because of his alleged hostility toward the voting rights of African Americans, disparaging comments he's reportedly made about black people and civil rights organizations, and more. And accusations of racism against him date back decades: In 1986, Sessions, who became Alabama's attorney general in 1994 and joined the Senate in 1996, was denied a federal judgeship based on reports that he had made racially charged comments about black people.
In January, Sessions insisted that accusations that he harbors racist sentiments that show themselves in his interactions with others and voting habits as a "caricature" of who he really is, according to The Washington Post. In fact, he has consistently denied allegations of racism, despite reportedly having said that Ku Klux Klan is "OK" and allegedly blasting the NAACP as "un-American" and "Communist-inspired," as the Associated Press reported shortly after his November nomination.
The possibility that a man who has consistently voted against civil rights measures, such as key components of the Voting Rights Act, was appointed to the highest law enforcement position in the United States has inflamed some Senate Democrats. New Jersey Sen. Cory Booker broke precedent to testify against his own Senate colleague at his confirmation hearing last month, explaining on MSNBC's All In that, in his view, Sessions has "a posture and a positioning that I think represent a real danger to our country." And Sen. Elizabeth Warren of Massachusetts whipped the Democratic base into a frenzy when GOP leaders formally prohibited her from reading on the Senate floor a letter that the late Martin Luther King Jr.'s wife, Coretta Scott King, who died in 2006, wrote opposing Sessions' nomination to the U.S. District Court for the Southern District of Alabama in 1986.
Some Republicans were quick to defend Sessions, such as Alaska Sen. Dan Sullivan, who called him a "man of integrity, a man of principle," during debate over his imminent confirmation Wednesday afternoon, according to The New York Times. Similarly, Senate Majority Leader Mitch McConnell insisted that the "honorable and trustworthy" Sessions wanted to be attorney general for "all Americans." But considering the fact that Sessions opposed expanding protections of the Violence Against Women Act to cover Native Americans, LGBT people, and immigrants in 2012, that sentiment is tough for his critics to believe.
Despite the fight that many Democratic lawmakers put up on behalf of and alongside their constituents, Sessions will now shape how the United States enforces his laws. It's a terrifying prospect for many, many Americans — but they've shown they will not give up the fight for fairness and equality, no matter what.