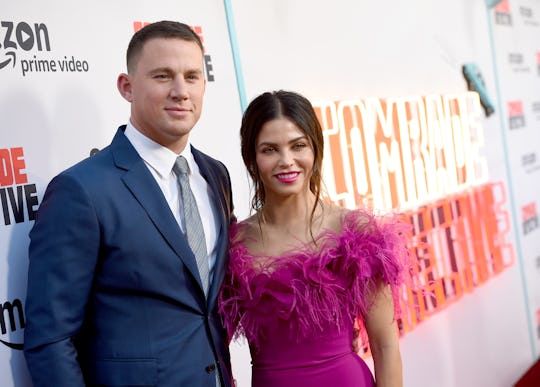 Kevin Winter/Getty Images Entertainment/Getty Images
Jenna Dewan & Channing Tatum Were Co-Parenting Goals With Their Daughter On Halloween
Finding a way to continue being the best parents you can be once a romantic relationship is over isn't easy. But with some hard work, a little bit of compromise, and a whole lot of respect, it is doable. Case in point: Jenna Dewan and Channing Tatum were co-parenting goals while trick-or-treating with their daughter. They may have decided to get a divorce, but that doesn't mean that the two have stopped being part of the same family.
Tatum and Dewan teamed up on Wednesday to head out for Halloween with their 5-year-old daughter Everly, as Us Weekly reported. The family went house to house trick-or-treating in some adorable costumes. Everly was dressed as Starfire from Teen Titans, while Tatum was Aladdin's Genie and Dewan channelled Cleopatra. Along with other photos and videos from the night, Tatum shared a selfie with Dewan to his Instagram Story that was the epitome of co-parenting success. (FYI: You can get Tatum's Genie costume at ShopDisney.com.)
In one of the videos, Everly can be seen holding hands with her parents, counting to three and swinging from their arms, as E! News reported. Overall, their night looked like a blast. While Halloween is pretty much every kids' ideal holiday — I mean come on, all you can eat get candy — but it looks like the quality time spent with both of her parents is what made the night truly special.
Their Halloween wasn't without its hiccups, though. As Tatum explained in his Instagram Story, Everly had to use the bathroom while they were out and her parents looked to one of the homeowners to help, according to People. The proud dad passed that particular baton to his wife. "I made Jenna do it because I was afraid that they wouldn't be so receptive to me," Tatum said, explaining that he was wearing a mask at the time.
The family night out follows news of Dewan and Tatum officially filing for divorce, according to E! News. But their ability to co-parent Everly is in line with what the two have said about their relationship following the split. When Dewan and Tatum shared their news with the world via a joint statement on Instagram, they explained that they are "still a family and will always be loving dedicated parents to Everly," adding that they still care for one another:
We have lovingly chosen to separate as a couple. We fell deeply in love so many years ago and have had a magical journey together. Absolutely nothing has changed about how much we love one another, but love is a beautiful adventure that is taking us on different paths for now.
Those paths seem to be leading both Tatum and Dewan to happiness. In an interview with Women's Health for the magazine's July cover story, Dewan explained where her life is going now and how the decision to end her marriage has impacted her family:
It's been a journey, and it's been a transformation of myself — my needs and wants as a woman. I think everyone wants to hold on to what's in front of them, but when you open your mind, saying, 'I want what's best for myself and my daughter,' you have to be okay with however that looks.
Multiple outlets have reported that both Tatum and Dewan have moved on to dating other people. But throughout the whole experience of cleaving their lives from one another, a source told People that they "are both very respectful of one another."
When it comes down to it, maintaining that respect is key to best serving Everly. And from the looks of things, Dewan and Tatum both have her best interests in mind. Happy Halloween, indeed!