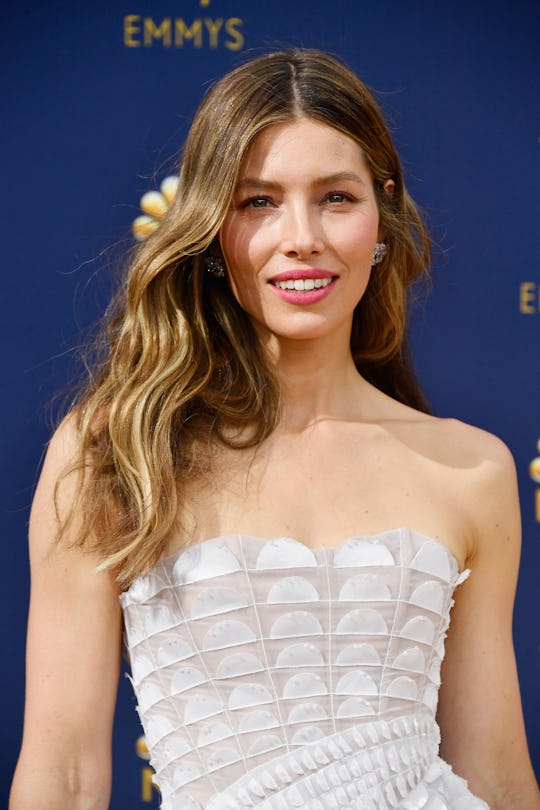 Frazer Harrison/Getty Images Entertainment/Getty Images
Jessica Biel Supported '7th Heaven' Co-Star Beverly Mitchell After Miscarriage
Although it happens more frequently than most people might realize, pregnancy loss is never something you think will happen to you — until it does. Even very early miscarriages can feel like a punch to the gut, followed by a mourning period. (Trust me, I know from experience.) Which is exactly why women who are suffering a pregnancy loss should be allowed to grieve in their own way — and they should have someone to lean on during this difficult time. Celebrities are no exception. As it turns out, Jessica Biel supported former 7th Heaven Co-Star Beverley Mitchell following her miscarriage.
Mitchell recently opened up about her caring friend's support in the wake of her miscarrying twins earlier this year. (If you remember, Biel and Mitchell played sisters Mary and Lucy on 7th Heaven for a decade.) "[Jessica] was very supportive through everything and was always checking in on me and through the whole miscarriage thing," the mom of two told Us Weekly at the Volkswagen Annual Drive-In Event in L.A. on Nov. 30. "She was one of the first people I called and I'm just very grateful for her friendship and her being just a frickin' bad*ss, awesome person."
Mitchell — who currently has a 5-year-old daughter, Kenzie, and a 3-year-old son, Hutton, with her husband Michael Cameron — revealed her miscarriage via Instagram on Nov. 22, ET Online reported. "So much to be grateful for," the actress captioned a photo of her family on Thanksgiving Day. "Sharing a little bit about the past few months, a little heartache, a miscarriage, and healing! Thankful for my wonderful family who fills my [heart]. And thank you… to all of you for your love and support! And giving me a platform to share all my highs and lows! #healing #thankful #grateful#blessed."
As People reported, Mitchell went on to write about her miscarriage with twins on her blog. The actress and her husband were excited to find out she was pregnant with twins earlier this year — only to be devastated a short while later by a grim reality. "A few weeks later, our new dream of our growing family came crashing down; we had a miscarriage," Mitchell wrote. "This was a shock. Honestly, my first instinct was to say I was fine, and to be honest, I was trying to be. I thought I had to be, for my family, for myself."
Because she had already had two healthy pregnancies, Mitchell said she hadn't even considered the possibility that she would miscarry. The actress also confessed she didn't know much about miscarriages before having one — and didn't think she knew many people who had experienced it. "I was now part of a group, the unspoken and hidden group who mourn their losses in the shadows," Mitchell added. "This was the hardest part, suffering in silence. Every time I shared what we were going through I made people uncomfortable, no one ever knows what to say, and to be honest, there is nothing to say." She continued:
Most people who are sharing their story, we aren't looking for anything, just the opportunity to share their story. It is with sharing it that the healing begins, the acceptance that it happened. It is when you ignore it or pretend that it never happened that you cause more pain. Dismissing it almost makes it worse.
Although suffering a miscarriage was obviously a trying time for Beverley Mitchell, it's awesome that she had Jessica Biel to lean on during this difficult time. Everyone grieves the loss of a pregnancy differently. But having others acknowledge this loss and being able to talk about it can be invaluable. Every woman should be as lucky.
This first-time mom wants to have a home birth, but is she ready? Watch how a doula supports a military mom who's determined to have a home birth in Episode One of Romper's Doula Diaries, Season Two, below. Visit Bustle Digital Group's YouTube page for the next three episodes, launching every Monday starting November 26.