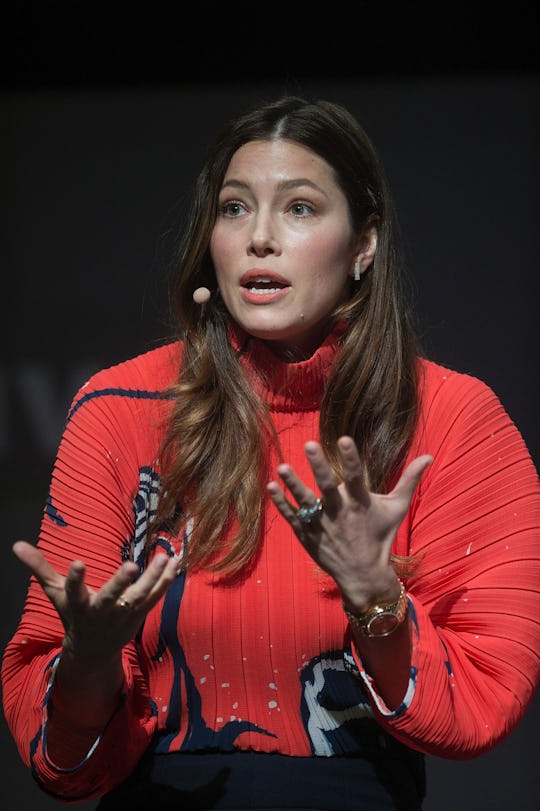 LISELOTTE SABROE/AFP/Getty Images
Jessica Biel's #MomLife Instagram Post Is Painfully Relatable
Sure, Jessica Biel may seem to lead a charmed life. She's super-rich, super-beautiful, and she married a guy whose picture a very large percentage of the teen girl population practiced kissing on back in the early 2000s. (Or was that just me?) But even she's not immune to Mom Fatigue. Yes, as Jessica Biel showed in a #MomLife Instagram post, she has her off-days too, although of course she still looks gorgeous throughout.
On Monday, Biel posted an Instagram shot of herself with her head back, mouth slightly agape, catching a few moments of sweet sleep relief while, presumably, her own child napped, captioning it #momlife. Pretty much every mom knows the feeling — the children are finally asleep after screaming and/or running and/or playing for hours, and even though perhaps a pre-kids version of you struggled with insomnia, or boasted of your need to only sleep three hours a night, you find a new, superhuman ability to conk out immediately because oh man you really need this and the kids could wake up again at any moment. It's nice to know that even celebrity moms feel the same way too.
Biel and her husband, Justin Timberlake, have one child together, an adorable little boy named Silas who was born in April 2015. The couple married in 2013. And though they're not currently planning on expanding their family, Timberlake recently told People that they're "having a lot of fun practicing."
Biel's certainly a busy lady. In addition to motherhood, she's filming a new TV series for USA called The Sinner, in which she plays a young mother experiencing inexplicable fits of rage. In addition to playing the lead, she's a producer on the series. It's her first return to a regular network series gig since Seventh Heaven, the show that made her a teen icon of her own. Luckily, she's been able to bring Silas to the set with her.
On Tuesday, Biel got yet another big piece of news (and yet another thing to deal with) when Timberlake posted a selfie of himself in a voting booth in Tennessee, in an effort to get out the vote. Of course, what he didn't realize when he stuck the photo online is that photography inside a voting booth is illegal in Tennessee... and now it's possible that Timberlake could face up to 30 days in jail or a $50 fine.
Biel didn't break any laws when she posted her popular #MomLife Instagram photo. But it's no wonder she needs a nap.