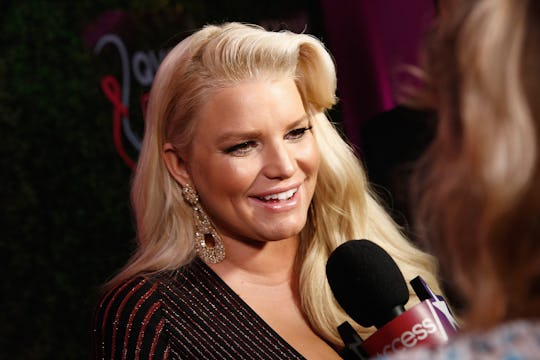 Brian Ach/Getty Images Entertainment/Getty Images
You'll Totally Want To Eat Everything Jessica Simpson Is Craving This Pregnancy
Jessica Simpson is expecting her third baby with former NFL player husband Eric Johnson any day now. Since this is her third child, she sort of knows the drill by this point. She knows a thing or two about pregnancy. And she knows a thing or two about how to enjoy some of the better parts of that pregnancy... namely, just really letting those intense cravings take over. Because why not? This time around, Jessica Simpsons' pregnancy cravings sound like the recipe for a good afternoon of snacking in my opinion. And I'm not even pregnant.
Simpson, who announced she was expecting a baby sister for 5-year-old son Knute and 6-year-old daughter Maxwell just last month, was out on the town in New York City this week. She was there to accept the very first Fashion Icon Award at the 25th Annual QVC Presents "FFANY Shoes on Sale" Gala Event, which sounds like a pretty big deal. Although, being the humble gal she is, she did admit she couldn't quite "understand how I'm a fashion icon," as MSN reported. After accepting the award, the fashion designer couldn't help talking about the same thing most pregnant women talk about the first chance they get: food and kids.
When it comes to food, Simpson admitted to Entertainment Tonight that she has had a few cravings now that she's pregnant:
I crave everything! It's like, with a girl, I just want, like, Pop-Tarts and cinnamon rolls and cinnamon gummy bears and sour cherries.
So basically she's craving my movie-watching snacks. I knew we had something in common. Now, does the singer feel bad about these cravings? I'm happy to report she does not feel bad at all. In fact, as she told Entertainment Tonight in that same interview, she accepts her cravings with a mighty rallying cry of, "Bring it on!"
Of course, you know what happens when a pregnant lady indulges in her cravings... she needs her sleep. As Simpson noted in this Instagram post last month which she so aptly captioned:
This momma wants sleeeeeeeep 😴
Side bar: her bed looks insanely comfy.
While Simpson has experienced pregnancy cravings in the past, she has discovered one new element to her third time around she didn't have to worry about before: hilariously awkward questions about the baby from her older kids. She told People that she and Johnson "are constantly cracking up and trying to figure out how to be honest… but not traumatize them or the friends and teachers we know they are sharing every detail with!"
Another element of being pregnant when you have two older kids, as so many of us already know, is trying to work around their schedules. Which Simpson told People has made a difference because "this time around I am also focused on Maxwell and Ace, who have their own very active calendars and social lives at this point — so it's going by extremely fast!"
That's the thing about pregnancy; it goes by super fast or super slow, depending on the day. So I say enjoy all those cravings while you can.