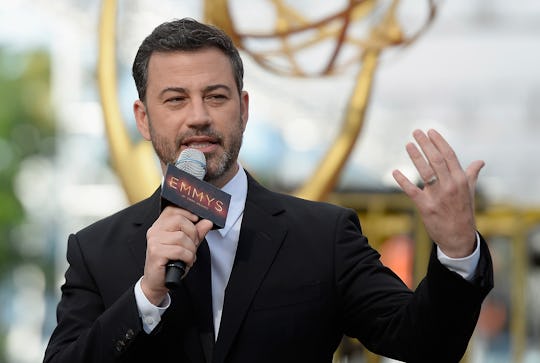 Kevork Djansezian/Getty Images Entertainment/Getty Images
Jimmy Kimmel's 2016 Emmys Instagram With His Daughter Was Super Cute
On the eve of the 2016 Emmy Awards, host Jimmy Kimmel took to Instagram to gush about his last-minute prep and simultaneously brag about his very special ghostwriter: his daughter. Jimmy Kimmel's 2016 Emmys Instagram with his daughter, Jane, was adorably sweet and touching. It's a reminder of all the incredible ways having a child influences every facet of your life. Though people with children are still people just as much as they are parents, Kimmel's post puts on full display the wonder having a child has brought to his career and just how much sharing this moment with Jane must mean to him. He captioned the photo:
last minute #Emmys punch up with my best joke writer
I love how hard at work Jane looks, and there's no denying just how delighted Kimmel looks to have her on his lap. I remember being a little kid and wanting to be involved in everything my parents had their hands on. The thought of doing "big person" stuff was just so much fun — of course, now I know much better than to think that — but I'd be willing to bet that the thought of "helping" her dad out with his work before his incredibly big day was one Jane couldn't pass up. And honestly, neither would I.
Almost two-and-half years ago, shortly after Kimmel's wife Molly McNearney gave birth to Jane, Kimmel shared exclusive photos with fans. According to EOnline.com, Kimmel got candid about how he felt after Jane's arrival, as well as sharing inspiration behind their name choice. He said:
My wife is doing fine. I'm fine, too. I was so brave. I cried a little but I didn't scream. You guys would've been very proud of me. We had a little girl. We named her after my grandmother — her name is Grandma Kimmel. No, we named her Jane.
And it's clear that since then, Jane Kimmel has been doing more than her fair share of providing her dad with joke inspiration. (Hell, for all we know, she's could probably even be writing Kimmel's jokes.) More than ever, actors and actresses on the red carpet have included candid anecdotes about their lives as caregivers and parents, and Kimmel's pre-Emmys Instagram is just another means of making his family part of the whole experience. Though Jane likely won't be up to watch the show or even remember the jokes in years to come, there's something just so touching about sharing such an important moment with her dad ahead of one of the biggest night's of his career. To be honest, here's hoping some of Jane's best lines make it further than the cutting-room floor.