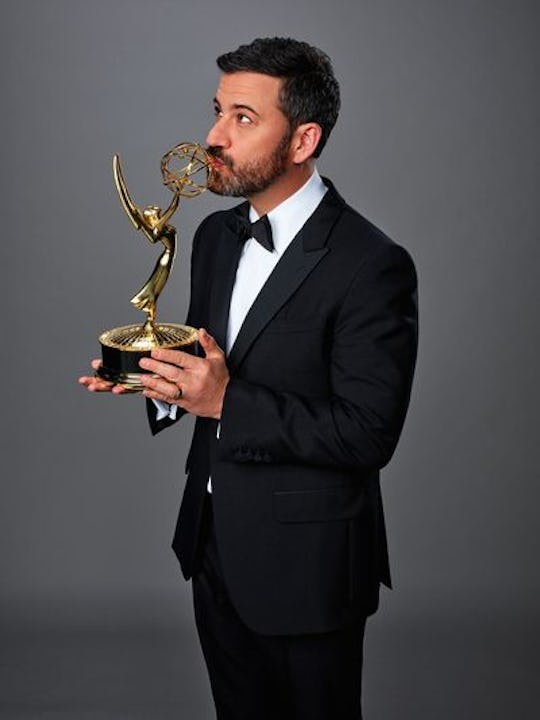 ABC
Jimmy Kimmel's 2016 Emmys Opening Monologue Said Everything We Needed To Hear
The host of the Emmy Awards is responsible for much more than a smooth show – they also have to deliver a killer opening monologue. After all, it's their moment to shine and it sets the tone for the entire night. Thankfully, the importance of such a moment wasn't lost on this year's host, as Jimmy Kimmel's 2016 Emmys Opening monologue said everything we needed to hear, was smart and, thankfully, was funny without being too mean (though he still gave some necessary callouts that was sure to hit a few nerves).
After starting with a montage dealing with a few of the big nominees of the year (like Kimmel jumping into a car with the Modern Family crew or riding on a dragon with Khaleesi from Game of Thrones), Kimmel came out on stage to poke fun (gently!) at some of the nominees. He handed an Emmy award to Jeffrey Tambor right off the bat to cut time, because duh. He teased Marcia Clarke, who came along as Sarah Paulson's guest for the evening, which Paulson gave a playful thumbs-down to. He also addressed the diversity issue that has plagued award shows by pointing out just how diverse this year's nominees are. Kimmel also threw some blame at the creator of The Apprentice for giving Donald Trump his head start in media – something that got its fair share of laughs because, well, it is that guy's fault. Clearly.
Kimmel has Emmys experience, which arguably gives him a leg up when it comes to handling such an important and potentially stressful monologue. He hosted the award show back in 2012 and did well, managing to be funny and sarcastic without bringing anybody down or shaming anyone too severely (which, of course, is up for interpretation and depends on who you ask). Past Emmy hosts have erred "too edgy" or "too safe," according to critics and fans alike, but Kimmel managed to land solidly in the middle. It's easy to see and not difficult to assume that the Emmys is a balancing act and definitely not what one would classify as an "easy job," but this time around Kimmel handled it well.
Kimmel is actually nominated for an Emmy this year in addition to hosting. Jimmy Kimmel Live! was nominated in the Outstanding Variety Talk Series, but the host doesn't have his hopes set on taking home a little statuette of his very own. He told E! that he knew he wasn't going to win, but that it didn't bother him. He was more concerned with his hosting, saying, "Mostly I just want to do well as host. I would rather get a laugh than the trophy. I'd rather have a funny [moment]. Even when I'm presenting or whatever, right? I just want it to go well and afterward everybody to say, 'Oh, that was funny.' That's to me its own reward."
Considering that's where the bulk of Kimmel's effort was going, it's great he did as well as he did. Before the Emmys aired, Kimmel promised not to pull his punches when it came to jokes, particularly because so many of the celebrities in question are his friends. Either they've passed through his show or he knows them from other venues, which means he knew exactly who could take a joke and who, well, couldn't. Pretty much everyone Kimmel addressed was a good sport about it.
If they didn't respond so well, Kimmel promised he was prepared, saying, "I mean, these are people that have all been on my show and they also know the camera is on them, so they have to be pretending to enjoy what I'm doing – because they know I will find those clips and punish them somehow in the future."
If there's one thing for certain, Kimmel has nothing to worry about – it wasn't the comedy event of the decade, but he did a good job of opening the 2016 Emmys.