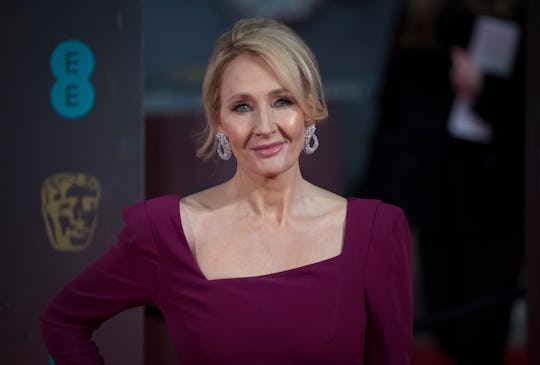 John Phillips/Getty Images Entertainment/Getty Images
JK Rowling's Scathing Response To Former TV Host's Transphobic Comments
Tomi Lahren has made a name for herself by being openly opposed to anything she declares "snowflake" material. Her most recent subject of attack: anyone opposed to President Trump's controversial decision to ban transgender people from serving in the military. Thankfully, doing Dumbledore's Army proud, iconic author and novelist J.K. Rowling responded to the former TV host's transphobic comments this week with a single brilliant tweet.
The author of the renowned Harry Potter series has made it her mission over the years to speak out against ignorant comments, especially when they are coming from a place of power, as is often the case with Trump supporters' blatant hate speech. Recently, Rowling took it upon herself to respond to Trump's transgender military ban — and Lahren's tweet in particular.
In three viral tweets of his own, which he posted on Wednesday, the president announced that he was banning transgender people from serving in the military "in any capacity" — a reversal of the Obama-era decision to allow transgender people to serve if they so desired. Responses to the tweets have been numerous and varied. Lahren's tweet, as per usual, was one of resounding support for Trump's decision, mixed with casually transphobic language and a dig at President Obama himself. She wrote:
Pres Trump dedicated to putting radical Muslims in graves whereas Pres Obama was dedicated to putting men in ladies room.
It wasn't the first time Lahren had spoken out on controversial topics, once going as far as to call Black Lives Matter "the new KKK." While her vocal right-leaning tirades may have gained Lahren a substantial following over the years, they have also gained her quite a few enemies. She has been criticized by The Daily Show's Trevor Noah for a number of her comments and frequently engages in back and forth discussions with critics on Twitter. This week, it appeared that Rowling was lining up to be the next person to call out Lahren for her incendiary views.
Following Lahren's tweet, Rowling tweeted:
Truly, whom amongst us can forget Trump ordering the killing of bin Laden? Or Obama bragging about barging in on naked beauty contestants?
(Her comments are referring to Trump's time with the Miss USA and Miss Universe pageants, when he made the cringe-worthy comment to Howard Stern that the enjoyed the pleasure of walking in on the contestants while they were getting dressed backstage.)
Along with her magical burn to Lahren, Rowling also retweeted a powerful message addressing Trump's recent ban. Her retweet came from the Twitter account VoteVets. The page identifies itself as "the largest progressive veterans group in 🇺🇸. We represent over 500K veterans, military families, & supporters. #resistance."
".@POTUS, can you my spot the transgender troops in this photo?" the account tweeted beneath a photo of the graves at Arlington National Cemetery. "They're there, I promise."
Between Rowling's row with Lahren and other celebrity backlash regarding the transgender ban, it looks like Trump is facing a Battle of Hogwarts-level resistance. Here's hoping the light prevails.