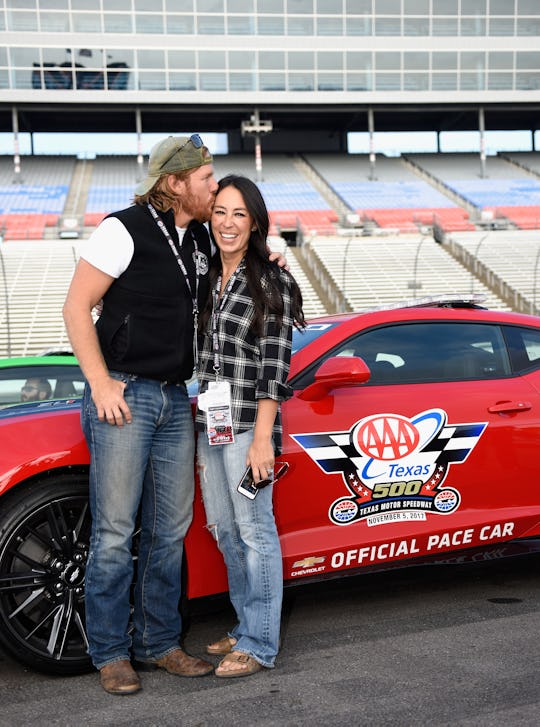 Jared C. Tilton/Getty Images Sport/Getty Images
The Way Joanna Gaines Told Her Kids About Baby No. 5 Will Definitely Make You Smile
As exciting as a positive pregnancy test can be, parents-to-be often opt to keep the news a secret until the 12-week mark, when the risk of miscarriage is lower. If you've already got young kids at home though, you might decide to wait even longer before you break the news to them — a new sibling can be a bit of an adjustment, after all — but if your kids are older? It sounds like a pregnancy announcement can quickly become a family affair. Fixer Upper star Joanna Gaines said she couldn't wait to tell her kids about her pregnancy when she and husband Chip learned they were expecting their fifth child together. And luckily their children are just as excited about their soon-to-be sibling as they are.
Not long after they confirmed they'd decided not to continue with another season of their design show, the popular reality TV couple announced that they were actually set to expand their family. And while fans may have been totally bummed that their favorite shiplap-loving couple would no longer be transforming homes together, the news that another little Gaines was on the way was definitely super exciting. But in a recent interview with Country Living, Joanna spoke about what it's been like to be pregnant with a baby again now that her children are older, and honestly, it sounds like a total love-fest all around.
Joanna told the magazine that, when her kids were young, she and Chip had always waited to break the news that they were getting a new sibling. But when they learned that they were pregnant with their fifth child in late 2017? They were so excited they they actually told them that day. Joanna said that "out of anybody, [they] were most excited to tell the kids," mostly because they were now old enough to understand, and to be able to experience the pregnancy along with them.
That definitely seems like one major advantage to having large age gap between your kids: while Joanna was still in her 20s when she and Chip welcomed their first son, Drake, according to Real Simple, the mom-to-be turned 40 earlier this month. And that has made her fifth pregnancy much different from her previous pregnancies in all sorts of ways.
For one, she's now a mom of a teenager — Drake is 13 years old — and this time around, her kids have been able to relate to the new baby entirely differently. Joanna said that when her youngest child, Emmie, was born, her kids "were four and under, and they didn't really get it." But now that Emmie is 8? Joanna told Country Living, "every day [the kids] ask how many more days until the baby comes. So that's been the most exciting thing—watching how excited they are."
Though they didn't wait long at all to tell their kids the news, Joanna and Chip did still manage to make the moment super memorable: she told the magazine that she laid out onesies with the words "big brother" and "big sister" written on them, and "made them turn around and look at it." And the reaction was priceless; She said, "I mean, they lost it. They were so excited, and I think that's what makes me the most excited — that they're celebrating with us."
In March, fans learned that the couple was actually expecting a baby boy, thanks to a video clip shared on Twitter by the father of a young fan. Dad Mike Spurlock shared a video of his son, Gage, meeting Chip at a Tim Tebow Foundation golf event, according to People, and in it, Chip asked Gage for some help picking a "D" name for his baby boy-to-be.
And while it seems like the couple may not have actually been ready to make their baby's sex public knowledge, Chip soon retweeted Spurlock's post, confirming that, indeed, he and Joanna were set to welcome another son:
To be fair though, Joanna did admit there was still one major drawback of waiting to have her fifth child. She told Country Living that it's been long enough since her last pregnancy that it's almost like having a baby for the first time, and that, at this point, she's mostly just "figuring out how to be a mom to a newborn again." And, well, she's not even letting herself think about the actual birth: though she's already done it four times before, Joanna said, "I don't even want to think about delivery. I don't want to remember it. I think we all block that out."
Delivery worries aside, it sounds like Joanna and Chip's pregnancy has been a really special time for the entire family, and that their kids are just as ready to welcome their new sibling as they are. And while it might be a bit of an adjustment to have a newborn in the house again after all this time, the couple will at least now have four sets of very capable hands ready to jump in for baby duty.
Check out Romper's new video series, Bearing The Motherload, where disagreeing parents from different sides of an issue sit down with a mediator and talk about how to support (and not judge) each other's parenting perspectives. New episodes air Mondays on Facebook.