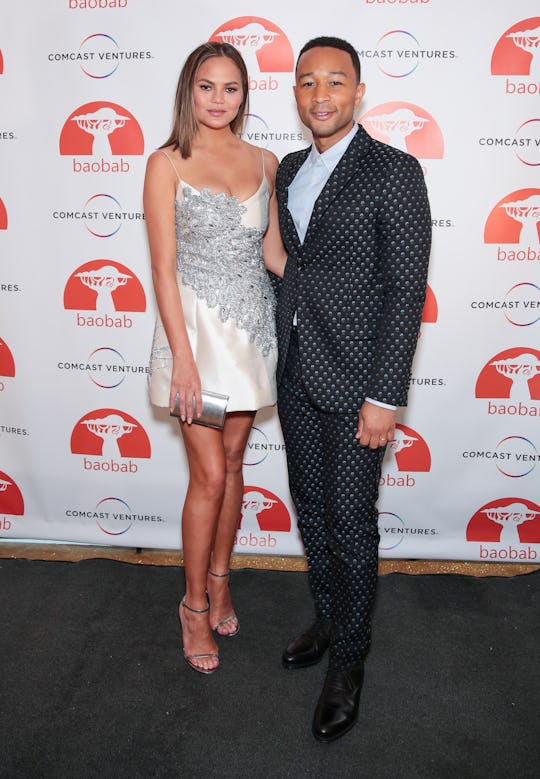 CJ Rivera/Getty Images Entertainment/Getty Images
John Legend Talks About The First Time He Held Luna
Grammy award-winning singer John Legend loves his family. This we know for sure. The "Love Me Now' singer is a frequent fixture on everyone's social media news feeds, and of course there's also his super popular wife, model and cookbook author Chrissy Teigen. And let's not forget their adorable toddler Luna, who is clearly the apple of both her parents' eyes. Legend talked about the first time he held Luna on Tuesday, and his happiness was evident in every syllable.
During an interview with Stephen Colbert on The Late Show on Tuesday, Legend joked about his love for 1-year-old daughter Luna. He told Colbert:
It's a different kind of love. It's very pure, it's unconditional; but they haven't earned it yet.
When Colbert asked him what he meant (and the audience broke out laughing), Legend went on to say:
It's like they didn't do anything. They just exist. You love them completely, but it's not built on anything. Just their existence.
Which is true, now that I think about it. Thank you, John Legend, for opening my eyes to that particular fact of life. Legend got more serious when Colbert asked him about the first time he held Luna after she was born on April 14 of last year.
Legend explained that it wasn't just the experience of seeing his child come into this world, but the love she embodied, that made the experience so powerful.
Oh, it's beautiful, it's very emotional, and it brings you and your wife closer together. It's a very like powerful feeling to see the product of your love right there in front of you.
Bringing Luna into the world also made both Legend and Teigen think about his own parents, and appreciate their love on a different level. Because now they understand what it is to love this little person of their own. Legend told Colbert:
Chrissy says, 'If they don't want to come have dinner with us when we're old and if they don't want to hang out or call us, I'm gonna be so sad.' We put so much love into this.
John Legend might have performed two songs at the Oscars ("City of Stars" and "Audition (The Fools Who Dream)" from La La Land) this year, released a new album, Darkness and Light, to rave reviews, and been featured in TIME magazine's 100 Most Influential People Of 2017 list, but he knows where his heart lies. With his little girl and his wife. The women who give it all meaning.