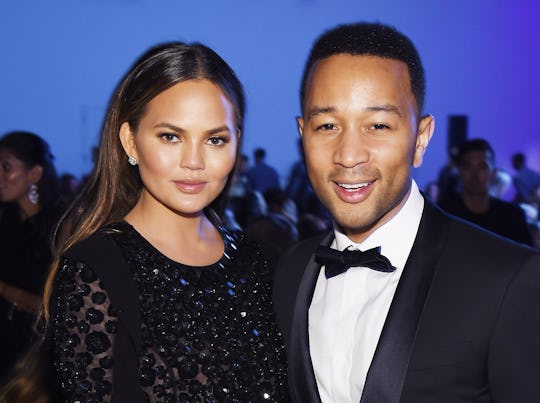 Larry Busacca/Getty Images Entertainment/Getty Images
John Legend Teases New Video Starring Baby Luna & It's Adorable
Just when you thought headlines couldn't get any more negative or nerve-wracking, one of Hollywood's most beloved families came to the rescue. On Friday, John Legend teased his new video starring baby Luna and it's absolutely adorable. The singer-songwriter posted the clip of his soon-to-be released video of his already popular song "Love Me Now" on his Instagram account and in just one day the preview has gotten more than a million views. Even though the proud dad's new hit is beautiful song with a catchy beat and powerful lyrics, he can probably thank 7-month-old Luna's sweet appearance as he and power mom Chrissy Teigen smother her in smooches and cuddles.
Along with the intimate shots of the happy family in the clip of "Love Me Now," there are also breaks to multiple candid snippets of couples and families from around the world, who are either getting married, embracing in a hug or a kiss, or just showing their love for each other.
The 37-year-old singer announced on Friday that his new album, Darkness and Light, will be released in less than a month on Dec. 2. As Entertainment Tonight reported, the highly-anticipated album will feature collaborations with Chance the Rapper, Alabama Shakes' Brittany Howard, and singer Miguel.
Have a look for yourself at the clip that will instantly melt your heart:
According to posts and tweets on social media, it looks like everyone agrees that baby Luna stole the spotlight and melted their hearts in the process:
Back in October when the song was first released, the Grammy and Academy Award winner explained the meaning of "Love Me Now" is essentially to live in the moment and to keep the ones you love close to you, because life is full of uncertainties.
"It's a really simple concept for the song," Legend explained in an interview with iHeartRadio on Oct. 6. "It's saying there's uncertainty, both in the world and in your own relationships, but don't worry about tomorrow. Sometimes you just gotta focus on now, and live for now, and love for now."
He continued in the same interview of the inspiration behind the lyrics, "Just seeing what is happening in the world, you never know what's gonna happen, and you never know about tomorrow. We have loved ones around us, and of course I have my own family, and you have to hold them close, and give them all you got right now."
Although Legend didn't write "Love Me Now" about Luna, he told iHeartRadio that his baby girl does have a song dedicated to her in his upcoming album.
"There's a song I wrote directly for Luna called 'Right By You', and I think the whole album is reflective of where I am in my life as a husband, as a father, as just this citizen of the world," Legend told iHeartRadio in the same October interview.
Even though we have to wait for the full video to premiere, the preview was a wonderful distraction from the unhappy news dominating headlines lately and any shot of baby Luna on our social media feeds is a sweet reminder that the world isn't all bad.