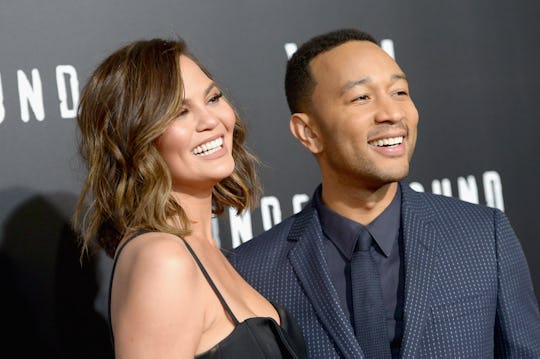 Charley Gallay/Getty Images Entertainment/Getty Images
John Legend's Pic Of Luna's Easter Egg Hunt Is Too Much
Forget the adorable bunny-costumed dog you saw or any funny Easter egg hunt videos you watched. John Legend's Instagram picture of Luna's Easter egg hunt is easily the best thing you'll see today. The singer uploaded a picture of his daughter's adventure on Sunday, and Luna Simone can be seen victoriously holding up two plastic Easter eggs while sitting barefoot in the grass.
It's technically the 1-year-old's second Easter — Luna was born just two days before the holiday — but the toddler was clearly a bit more ready to celebrate this year. A week before Easter, Luna met the Easter bunny alongside her parents (and even managed to smile during the scary experience!), and soon after, both Legend and super-mom Chrissy Teigen showed off pictures of Luna's adorable first birthday.
"Happy first birthday Lu!!!!" Teigen wrote on Luna's birthday, captioning an Instagram shot of their little family. "My lovebug. You are all the best parts of the both of us and I cannot believe how much has happened in you first 12 months of life. We love you to the luna and back."
Luna looked pretty stoked on life in all of her birthday shots, and she got to celebrate her first year of life with a new kitchen set and not one, but two tiny, driveable cars courtesy of Kris Jenner. Then, just a couple of days later, Luna got to experience the excitement of her very first Easter egg hunt. Take a look at the boatloads of cuteness yourself:
Clearly, Luna is having a better week than anyone else in the world is. Luckily for the rest of us, her parents have been kind enough to grace us with all of cute photos that capture her happiness. And maybe even a video of Luna pushing her dog around in a tiny plastic grocery cart. (Fair warning: The video may just make your heart explode.)
In the past, Legend has talked openly about Luna and how fatherhood has changed him. "It just takes over your life when you have a child," he told Notion last year, according to Entertainment Tonight. "It just humbles you. I think everyone struggles with being a new parent, everyone's trying to figure it out and I think it's a humbling process."
Judging by the many fantastic pictures and videos of their cute little family, though, it seems like Legend and Teigen have got parenting under control — and it seems they're both having a great time with all of Luna's sweet firsts.