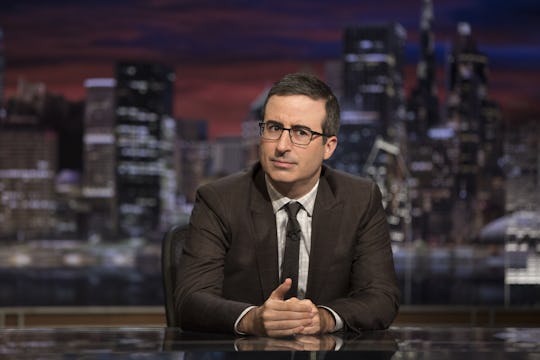 HBO
John Oliver Slammed Donald Trump Again On 'Last Week Tonight' With An Emmy Bet
On Sunday night's episode of Last Week Tonight, John Oliver proved once again that he really gets us. "Unfortunately," he said, "We have to start tonight with talking about the 2016 election." Once again, John Oliver slammed Donald Trump with his hilarious Emmy bet. Among the many things that Trump said at the third and blessedly final presidential debate that were horrible, he refused to say that he would accept the results of the election should he lose, and as Oliver noted, seemed miffed when Hillary Clinton pointed out that his show The Apprentice never won an Emmy award.
At the debate, Clinton made the very salient point that Trump called the awards rigged when The Apprentice didn't win an Emmy. It's no wonder that he's already getting ready to claim the entire electoral process is rigged if he will lose (which he probably will). Oliver also showed a clip of Trump at a rally just days later saying that he will accept the results of the election... if he wins! Oh, Donald you old trickster. We thought for a moment you were going to say the rational thing, but it turns out you've fooled us once again. Oh, what larks!
In response, Oliver did what Oliver does best, and that is call Trump out. In fact, he offered Trump an alluring bet. He'll take the side of Trump winning, but only if Trump takes the side of him losing. Should Trump lose the election, Oliver will give Trump his own beautiful golden Emmy, which he knows Trump wants and was kind enough to display on the show. She's beautiful, small enough to fit in Trump's famously tiny hands, and he doesn't even need to take her furniture shopping to get her into his bed. Take the bet, Oliver urged the presidential candidate.
This, of course, was not the only time Oliver skewered Trump in the first 10 minutes of the show. He also quickly ran through a montage of all the horrible things Trump said during the debate, including the "No, you're a puppet" outburst, "bad hombres" comment, his confused understanding of what a late-term abortion actually is, and calling Clinton a "nasty woman." Check out the clip below:
It's unlikely that Trump will actually win this election. But while we're here in the home stretch, at least we have John Oliver to make us laugh until it's all over.