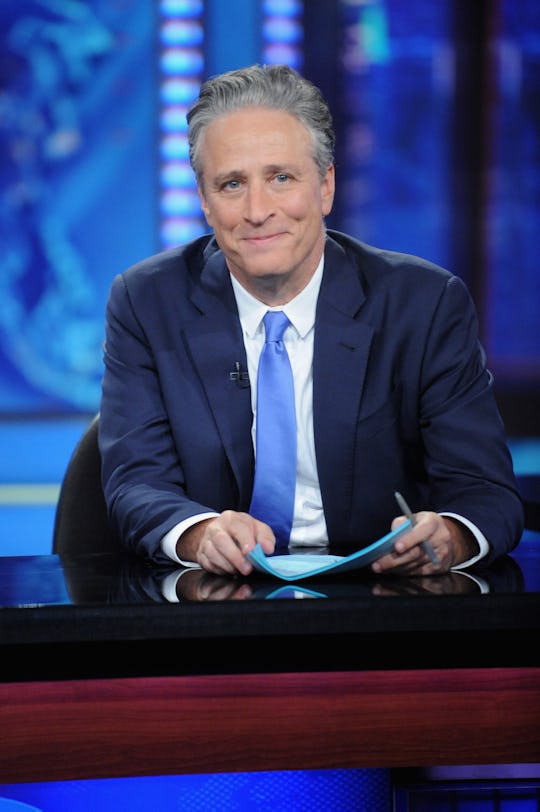 Getty Images
Jon Stewart Returns To 'The Daily Show' Tonight & Here Are 5 Recent Times When We Needed Him
The timing could not be any better for Jon Stewart's return to the Daily Show tonight as a guest. Listen, Trevor Noah, you've been doing an amazing job holding down the fort, but there's just something about Jon Stewart on a weeknight when the War on Christmas starts. It just feels like home to know we're going to get to check in with him and see what's he's up to, how long his beard is in retirement, and possibly, hopefully, cross your fingers, get to hear what he thinks about current events these days.
The official reason for Stewart's guest appearance is to talk about his favorite cause, the James Zadroga 9/11 Health and Compensation Act, which is a bill that provides healthcare and compensation to first responders to the 9/11 attacks and their families. He's worked hard to bring attention to the bill and even testified in Washington to lobby for the extension of the funds since they will expire next October. It's sort of his thing.
Still, it would be pretty great if he could squeeze in a few minutes to do what Jon Stewart does best: call attention to the absurdity of American policy makers and the media that fluff them. The best part of watching the news in the Jon Stewart Daily Show era was watching him and his team watch the news. In pointing out the absurd in the behavior of the most powerful people, he and his writers had this uncanny ability to make everything seem not so bad. No matter what it was, Stewart was one step ahead, seeing right through the B.S. It made you feel safe.
Which is why in the wake of seemingly non-stop terrorist attacks, everyone could have benefitted from Stewart's take on a whole range of issues, from Starbucks red cup outrage to ISIS. I imagine watching Stewart tonight will be a little like going home for the holidays and talking politics to that one sane person in your grandmother's living room. It will be brief, but it will keep me sane. Here are a few things it would have been great to see Jon Stewart weigh in on in recent months:
When News Orgs Went Into The San Bernardino Attackers' Home
That was crazy. And many outlets didn't report on how crazy it was because they were all doing it. Jon Stewart, provide us with his "WTF" face and make it all better (but still not at all OK).
When Ben Carson's Biography Was Cast In Doubt
Remember how Ben Carson's resume was crumbling before last month's debate? Stewart would have given us one of those old school montages to make even the most fervent Carson supporters laugh. He was good like that.
During Cable News' Post-Paris Coverage
While many late night hosts were able to speak somberly and eloquently about the attacks in Paris, it was the week of repetitive news coverage about ISIS and Syrian refugees that clogged up the news coverage. Stewart was always good about remembering how serious the news was, even when the coverage got repetitive.
When Gun Control Was Still Being Debated
Whether it's cops in Chicago or a mass shooting at a Planned Parenthood or social services center, everyone has been talking about gun control, but apparently not so convincingly, since no action has resulted. Stewart would not have let that slide at all. Not at all.
That Time Donald Trump Was Closing In On A Presidential Nomination
Again, Trevor, you're doing great. And Colbert has done a good job on the Late Show covering the presidential campaign. But Jon Stewart was born for a Trump run. It's a such shame we're having to weather it without him.
It will be good to check in with Stewart again tonight. He was always the best when society was at its worst.
Image: Brad Barket/Getty Images