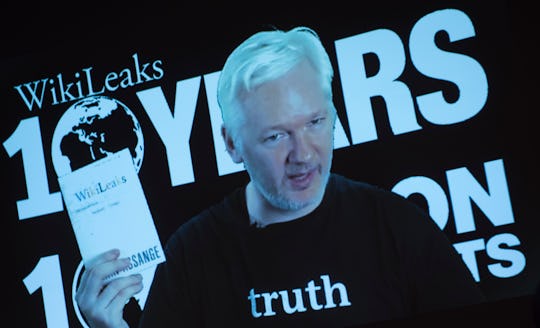 STEFFI LOOS/AFP/Getty Images
Julian Assange's Internet Access Was Cut Off & WikiLeaks Claims It Knows Who Did It
WikiLeaks has been all over the news lately, as the controversial organization keeps releasing emails allegedly hacked from within the Hillary Clinton campaign in a seeming attempt to reportedly influence the United States presidential election. Now, the organization claims that WikiLeaks founder Julian Assange's internet access has been cut off. Furthermore, WikiLeaks claims that a "state party" bears responsibility.
On Tuesday, WikiLeaks tweeted, "Julian Assange's internet link has been intentionally severed by a state party. We have activated the appropriate contingency plans." As a reminder, Assange can't just go out to an internet cafe or pop over to a friend's house and bum some wifi off him until his server is repaired, because he has been holed up in the Ecuadorian Embassy in London for four years in order to avoid an arrest warrant for sex crimes issued by Sweden. If Assange is sent to Sweden to face trial on rape charges, he could then be sent to the United States to face trial for releasing classified government documents on WikiLeaks.
Further details were not immediately available about Assange's loss of internet access. The Associated Press reports,
Calls, texts and emails left with WikiLeaks weren't immediately returned Monday. A woman who picked up the phone at the [Ecuadorean] embassy said: "I cannot disclose any information." An email to Ecuador's ambassador wasn't immediately answered. London's Metropolitan Police declined comment.
Over the past months, WikiLeaks has set its sights on Hillary Clinton and the DNC, releasing troves of emails it allegedly hacked from high-ranking campaign officials like John Podesta, Clinton's campaign chairman. (News organizations have not been able to verify the authenticity of all the emails, and the Clinton campaign has so far not confirmed their authenticity either.) Among other revelations, the emails have seemingly included parts of transcripts from Clinton's Goldman Sachs speeches, some candid talk from aides about Clinton's email scandal, and some arguments within the campaign about taking foreign donations.
Given that the United States government has accused WikiLeaks of collaborating with Russia, and that Clinton's opponent Donald Trump has certainly made hay over the WikiLeaks revelations, many have worried that the organization is determined to influence the election in Trump's favor, with Clinton spokesman Glen Caplin calling it "a crime reminiscent of Watergate." And given Trump's massive unpopularity around the world, there could be plenty of "state parties" who might be interested in shutting down any further unflattering revelations.
But hey, maybe Verizon can help Assange get back to information-dumping?
For now, Assange's internet cut-off has not yet stopped WikiLeaks from releasing new information. The organization put up another hundred pages of Clinton-related information on Monday afternoon.
Maybe at some point, WikiLeaks will release all their behind-the-scenes emails as they try to figure out what is going on with the internet.