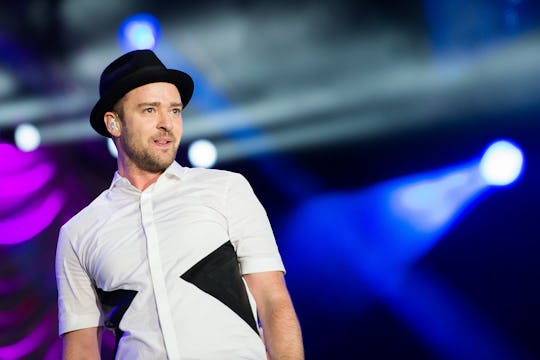 Buda Mendes/Getty Images Entertainment/Getty Images
Justin Timberlake Stopped A Concert To Help A Fan Announce Her Pregnancy, & OMG, It's So Sweet
Just when you thought you had seen every form of pregnancy announcement that could possibly exist, something new crops up. And it's setting the barre ridiculously high for pregnancy announcements in the future, not to mention the pressure might seriously be on for performers from here on in. Because Justin Timberlake helped a woman announce her pregnancy in the coolest way, proving he's the winner of everything all the time.
During a Monday night concert in Detroit, Michigan, Darcell Baxtresser was enjoying her front row seats at Little Caeser's Arena. But she was also holding up a sign, hoping against hope that the "Cry Me A River" singer would notice her. And unbelievably, Timberlake did see her sign that read "Will you help me announce my pregnancy?" And he actually stopped the show to come over and talk to Baxtresser, who appeared to be screaming her ever-loving lungs out in the video she posted to social media. Who can blame her, right? Because, as she wrote on Facebook, her "first love" was announcing her pregnancy to the world for her; This was the most amazing, magical, unforgettable moment I have ever had in my life!!! My first love to announce my pregnancy was crazy!!! A truly special memory I will forever cherish!! Thank you!!"
In the video, Timberlake says to the crowd, "I gotta stop the show for a minute. This is very cool. This says, 'Will you help announce my pregnancy tonight?'"
This was an especially amazing moment, who admitted to The Blast that she struggled to get the sign past security in the first place:
"[Security] was literally taking it out of my hands and I was like 'noooo, please, please!'
After crouching down to make sure he got Darcell's name right (which was probably exciting enough already), the "Man Of The Woods" singer announced to everyone in the auditorium,
Baby Baxtresser arriving November 1, 2018.
Baxtresser told E! News that this was the real, official pregnancy announcement, she hadn't even told family and wasn't planning to do so "for another couple of weeks." But, since she was out enjoying a girls' night at the Timberlake concert in Detroit, she figured she would give it a shot.
And it paid off in spades.
Timberlake, who is himself a dad to 3-year-old son Silas Randall with wife, actress Jessica Biel, even improvised a little personal congratulations of his own, telling Baxtresser,
Tell Papa B I said congratulations too.
I mean, he even gave the baby a cool nickname, "Baby Bax," which was a whole lot more than Baxtresser was expecting. She admitted to E! News that she was simply hoping that Timberlake would "at best, take a picture with it, but I did not at all expect him to stop the show, literally."
And how did family and friends react to the epic pregnancy announcement? Baxtresser told E! News:
As soon as it happened, cousins and friends who were at the show were blowing up my phone, so I figured I had to tell my family right away. I group texted my siblings and parents the video and they were all going nuts. I sent it to my husband and he was just like 'Oh wow!!'
So there you have it, folks. The best pregnancy announcement ever. I used to really like the concept of announcing it with Mama and Papa burgers at A&W, on account of you also get to eat hamburgers with that one. But I think getting Justin Timberlake to halt a concert to announce your pregnancy is probably better.
Plus, you can just go get burgers after, best of both worlds.
Check out Romper's new video series, Bearing The Motherload, where disagreeing parents from different sides of an issue sit down with a mediator and talk about how to support (and not judge) each other's parenting perspectives. New episodes air Mondays on Facebook.