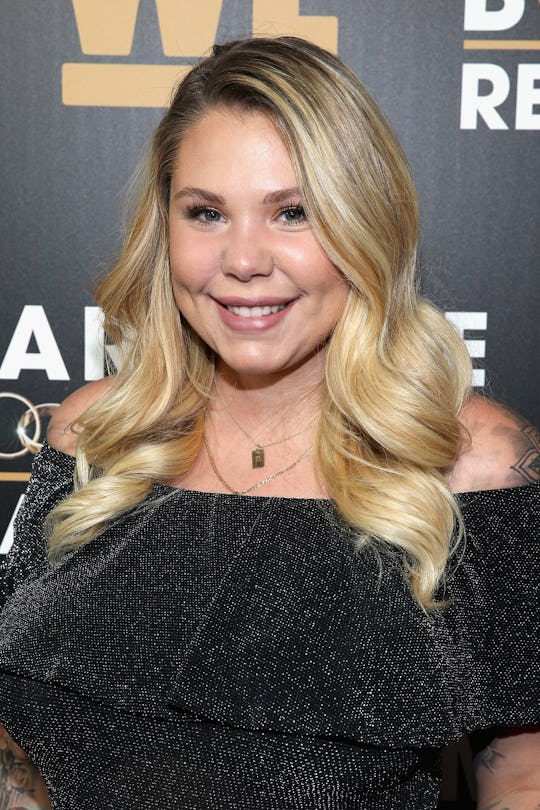 Bennett Raglin/Getty Images Entertainment/Getty Images
Kailyn Lowry Baby Updates Are Proof She's Doing Her Best As A Mom
Kailyn Lowry of Teen Mom 2 on MTV is no stranger to mom-shamers. Or shamers of any kind, come to think of it. The 25-year-old mother of three seems pretty fearless when it comes to dealing with haters, especially anyone who comes after her parenting. One would think she might pull back from sharing on social media, but one would be wrong. Kailyn Lowry's baby updates are exactly what one would expect from any proud new mom; full of smiles and pride.
Lowry's baby Lux Russell with ex-partner Chris Lopez is now seven months old, and he joins big brothers 8-year-old Isaac and 4-year-old Lincoln. She is raising the three boys on her own these days, after an acrimonious split from Lopez that she says left the ex-couple with "no contact" whatsoever. She also told Dr. Drew Pinsky during a reunion episode of the Teen Mom franchise that Lopez has stopped contact with his baby as well. It bears mention that Lopez rarely comes under as much fire for his absentee parenting as Lowry, who is raising three sons on her own. But hey; she did take that holiday with her fellow Teen Mom 2 star Leah Messner in Hawaii... that's got to be worse than not seeing your child at all, right?
Despite the concerns of her critics and his father's reported lack of interest in participating in his life, little Lux looks to be doing well. He was born in August 2017, but as so many fans already know he wasn't officially named until October. You know how it is; sometimes, the name doesn't come to you for a little while. Particularly when dealing with a difficult ex, as she told In Touch Weekly:
It took me so long to name the baby because I was trying to work with [my ex] Chris Lopez to agree on the name. But we just couldn't agree. Until we ended things [between us] for good and I decided I would just pick something I loved and he agreed to the first name [we picked] prior to me deciding it would be the name for sure.
Lowry recently shared the inspiration behind Lux' name, and judging from his smiling face shared so frequently on social media, I think she got the name exactly right. As she wrote on Instagram in January:
Lux - from Latin, literally 'light'
Lowry struggled with her relationships with men prior to welcoming her third son, which so many women (including yours truly) can absolutely relate to. Her past relationships with the fathers of her other two sons, Jo Rivera and Javi Marroquin ended, although she told Dr. Drew Pinsky that she still co-parents with Marroquin.
In this moment, I'm not sure, but prior to coming here, things were really great [with Javi]. We were co-parenting really well. So there's been a little tension and I just haven't really talked to him.
Yet ever since she welcomed Lux, her priorities seem to be firmly fixed on her sons.
I know Lowry has her share of haters; she actually probably has more than her share of haters. I know it really incenses people if she goes on holiday with some friends or tries to earn a living to provide for her family or wears a bathing suit or even breathes. But here's the reality; just like the rest of us, I think she's doing her best. Her baby looks healthy and happy and cared for, her older sons clearly adore their baby brother and are also well cared for.
So how about giving credit where credit is due, guys?