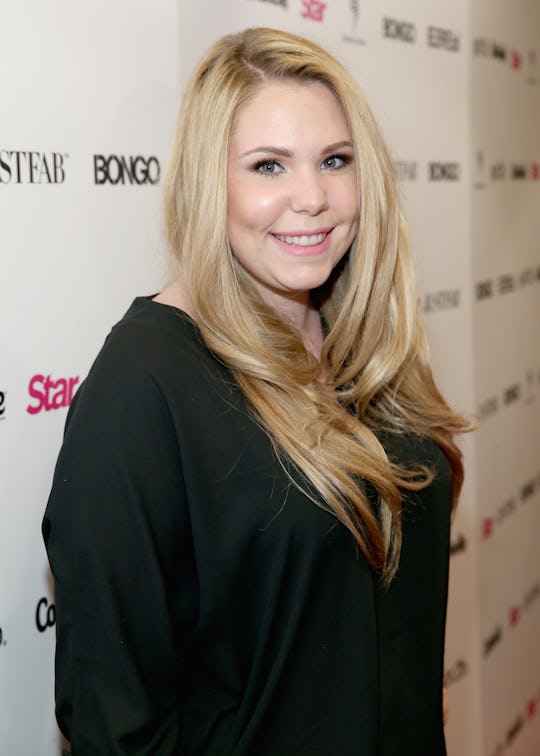 Jonathan Leibson/Getty Images Entertainment/Getty Images
Kailyn Lowry Will Appear On A New Reality Show That's Not Teen Mom
Kailyn Lowry has quite literally grown up in front of television cameras. The mom of three has had reality TV cameras document her life as a 16 year old to now a mother of three. MTV reality show lovers were first introduced to Lowry during season two of 16 and Pregnant, and they have continued to watch her journey on Teen Mom 2. But Lowry fans and reality lovers will now have a new show to watch her on, as it was announced that Friday that Kailyn Lowry will appear on a new reality show so people have a lot to look forward to.
No, she won't be appearing on a new parenting related show or spinoff like Teen Mom or appearing on a new MTV show. Instead, Teen Mom 2 fans can catch Lowry on Marriage Bootcamp: Reality Stars airing on We TV this October. Although Lowry is very single at the moment (and just gave birth to her third son), Lowry will appear on the show with her ex-husband, Javi Marroquin.
The show will take a turn from focusing on Lowry's life as a mom and focus on their relationship, putting the couple through exactly what the show's title states — marriage bootcamp (although not all of the show's couples are married). The show's trailer gives a pretty idea as to what the season will entail for Lowry and Marroquin. "When you love your baby, just not your husband," the show's trailer says of their relationship, alluding to their conflict. This is a very real problem for a person to have and sounds like it will be incredibly interesting to watch.
To give you an idea of what might happen during the show, a press release for the show, according to TooFab, perfectly sums it up:
The couples, all dealing with notorious and well publicized rifts will undergo intense counseling and decide, with the help of experienced publicists Dr. Ish Major and Dr. Venus Nicolino, whether to save their relationships and cut ties forever.
Those familiar with Lowry know that her relationship with Marroquin isn't exactly perfect. The couple married in 2012, had one child together, Lincoln, separated in May 2016, and then got divorced in December 2016. Although the two will appear on the show to work out their relationship — spoiler alert: as previously stated, Lowry is single right now. According to Radar Online, Marriage Bootcamp: Reality Stars was filmed almost one year ago in November 2016. Given the timeline of Lowry and Marroquin's divorce, it's easy to determine how Marriage Bootcamp went, especially since Lowry just revealed this week that Marroquin wouldn't be in her new son's life.
Still, it will be a fun change to see Lowry out of mommy mode, and into marriage mode, on the new reality show this fall.