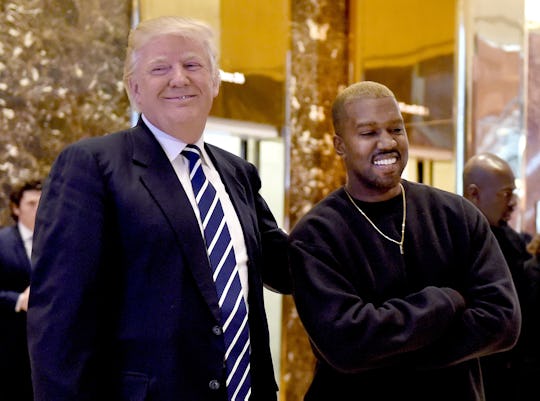 TIMOTHY A. CLARY/AFP/Getty Images
Kanye West Tweets "2024" After Meeting With Trump, & It's Troubling & Frustrating To Fans
On Tuesday morning, President-elect Donald Trump and rapper Kanye West broke the internet when they decided to have a surprise meeting at the Trump Tower in New York. At the time, West had little to say to reporters about the meet-up, saying only, "I just want to take a picture right now." On Tuesday afternoon, however, West tweeted "2024," alongside several other tweets about Trump.
West's "#2024" tweet was likely an answer to a question he received from reporters that same morning. In 2015, West announced at the MTV Video Music Awards that he planned to run for president in 2020. It wasn't just a one-off comment that went viral, either: West has confirmed his presidential aspirations several times in several interviews since then. At a show in November, according to E! News, West told fans, "I'm concerned about putting our concept of how to do the [president's] job in a new way and if no one will do it in that way, I will take position in 2020 and do it myself."
Except, apparently — after meeting the current president-elect — West is postponing his plans a further four years. His tweet lacked any further explanation, but it seems like West believes Trump could be in power for more than just a single term (a belief that Trump also seems to share, judging by his repeated references to eight years in power in both interviews and tweets).
On Twitter, West also shared his reasons for meeting with Trump on Tuesday morning. "I wanted to meet with Trump today to discuss multicultural issues. ... These issues included bullying, supporting teachers, modernizing curriculums, and violence in Chicago," he wrote. "I feel it is important to have a direct line of communication with our future President if we truly want change."
Fans of the Life of Pablo star didn't necessarily agree with him, however. Many of them reacted with frustration on social media, while others seemed concerned that West would edge over so quickly for Trump, despite their opinions on a West presidential bid. It didn't help that West's Trump tweets marked his first reemergence on social media since he was hospitalized for exhaustion in November, following his erratic behavior at one concert and the cancelation of his remaining Saint Pablo tour dates.
Regardless of fans' reactions, however, West has made it clear that he both supports Trump and wants to launch a presidential bid of his own. Apparently, he also plans to stay out of Trump's way if the president-elect runs again in 2020, meaning fans will have to wait a further four years to see the rapper aim for the White House.