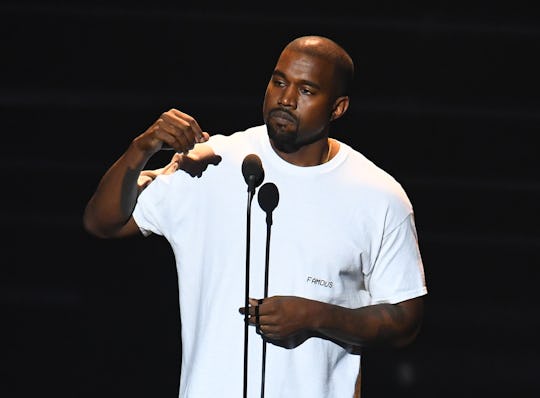 JEWEL SAMAD/AFP/Getty Images
Kanye West Update Shows Things Are Going "Better" For The Rapper, Says Ryan Seacrest
Following the news of his hospitalization for exhaustion and dehydration, a new update shows that Kanye West is reportedly doing "better," according to a recent People interview with Keeping Up With The Kardashians executive producer Ryan Seacrest. Earlier this week on Nov. 30, the 39-year-old rapper was reportedly released from UCLA's Resnick Neuropsychiatric Hospital after being admitted on Nov. 21 for undisclosed mental health issues, although Us Weekly reports that he is currently living apart from his wife Kim Kardashian and their children while receiving outpatient care. (Romper reached out to a West representative for comment and is awaiting a response.)
"I've spoken to Kim. I've not spoken to Kanye, but I think that things are going better now," Seacrest, who is also a close family friend of the Kardashians, told People on Friday, Dec. 2.
While it's completely understandable that the "Famous" rapper has kept private about the personal situation, the former American Idol host's positive update is something concrete for fans to know and that West has perhaps gotten some much-needed rest and recovery. It's not much, but in the midst of numerous conflicting reports about everything that led to his hospitalization — including whether he entered the hospital voluntarily and his current state — Seacrest telling fans that things are "better" is an update they can likely trust.
West's hospitalization came soon after a horrific incident when his wife was tied up by armed robbers in a Paris hotel back in October. In the following days and weeks, the rapper was reportedly "shaken" after learning what his wife had been victim to and was "experiencing nightmares and sleepless nights," according to Us Weekly.
He eventually cancelled the remaining dates on his Saint Pablo tour after bizarre onstage rants about Beyoncé and President-elect Donald Trump at his latest concert in California, where he only played three songs and abruptly ended the show early.
While neither West nor his representatives have made a statement yet, a source told Us Weekly that the horrific robbery happened near the nine-year anniversary of the loss of his mother, Donda. "The mere thought of his wife being taken from him was too much — it was like his mother's death," the source told the magazine. "Seeing Kim close to death did a major number on him. It sent him into a tailspin."
West is a worldwide and admired artist, but he is also a person — a husband and father to two children. And because he is such a famous star, fans understanbly want to know that he is doing alright and Seacrest's brief update did just that. It's good to hear that West is doing better and hopefully he'll be given the privacy and support he needs to continue his recovery.