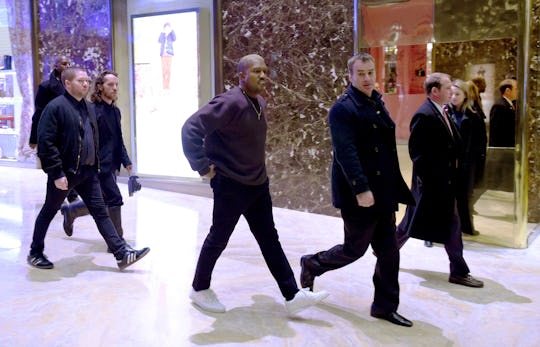 TIMOTHY A. CLARY/AFP/Getty Images
Kanye's Tweets About Donald Trump Meeting Have Left Everyone Confused
Yes, this is the state of the world we live in now: Rapper-producer Kanye West and President-elect Donald Trump sat down together for a cozy little chat on Tuesday. While we are naturally all curious as to what the Dynamic Duo could be discussing, neither party is divulging too much. If you're hurriedly checking out Kanye's Tweets for news of his Trump meeting, you're going to be left thinking... huh?
West met with Trump at Trump Towers on Tuesday, apparently to "discuss life", which would sound sort of lovely and quaint if we were talking about two other people. Sort of civilized and dignified. As it is, when we are discussing the entrepreneur/rapper who announced in 2015 he would like to run for president in 2020 and the entrepreneur/real estate mogul who won the presidential election in 2016, it feels a little worrisome. Because really, are Donald Trump and Kanye West going to be the decision makers of the future? Is this really what's happening now? Is this real life? Apparently so, according to E! News. An insider close to West told the news outlet that Trump is reportedly considering West as an "ambassador of sorts" because "Trump thinks he's a great role model when it comes to business."
Romper reached out to representatives for both President-elect Trump and West; neither immediately responded to a request for comment.
West, who was recently hospitalized for severe exhaustion, responded to the encounter and subsequent onslaught of rumors and chatter with a series of relatively inane Tweets on Tuesday that could mean just about anything.
"I wanted to meet with Trump today to discuss multicultural issues," West wrote. "These issues included bullying, supporting teachers, modernizing curriculums, and violence in Chicago. I feel it is important to have a direct line of communication with our future President if we truly want change." He added the hashtag #2024.
West, who owns his own clothing line, might be concerned enough to sit down with his soon-to-be-president to discuss the issues of the day, but not enough so to actually vote, it seems; At a concert in November West told an audience in San Jose, California:
I said something that was kind of politically correct. I told y'all I didn't vote, right? What I didn't tell you ... If I were to have voted, I would have voted on Trump.
It makes sense that West would have voted for Trump, considering Trump on Tuesday asserted that the two have been friends for a long time.
West has only appeared one other time since his recent hospitalization and the subsequent cancellation of his Saint Pablo tour. While he wouldn't answer any definitive questions about whether or not he plans to run for president himself someday, his curious #2024 Tweet has fired up the rumor mill once again. (Perhaps he's giving himself a few extra years to prepare?)
As for President-elect Trump, he was evasive about his meeting with West. He could well have been asking West to perform at his upcoming inauguration, or could have wanted to get his hands on a sweet pair of Yeezys for his son, Barron. Either way, book Tuesday's visit under just another surreal day in the zany world of Donald Trump.