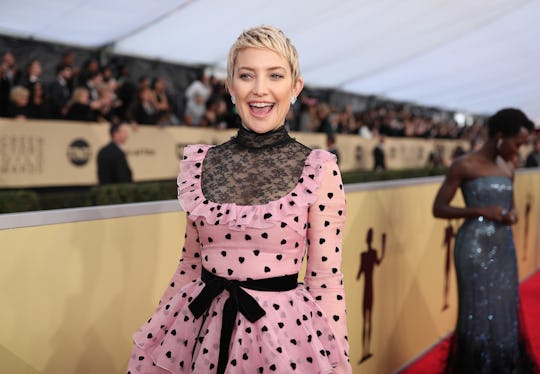 Christopher Polk/Getty Images Entertainment/Getty Images
Kate Hudson's Post-Thanksgiving Message About Her Kids Is So Sweet
Kate Hudson had a lot to be thankful for this Thanksgiving — and a lot to be thankful for for the rest of the year. In 2018, Hudson not only announced that she was pregnant but gave birth to her daughter, Rani Rose, in October. It's safe to say that she had an amazing year, which is why Hudson's Thanksgiving post about her kids is super sweet — you can tell how grateful she is for her life as a mom of three.
After welcoming her first daughter, Rani, into the world with her boyfriend, Danny Fujikawa, Hudson has been filled with so much gratitude and love for her family, her friends, and the people she surrounds herself with — and her recent Instagram posts have been a testament to that. Hudson hasn't been shy about sharing photos of her daughter and stating how happy she has been for her support system. So, it shouldn't come as a surprise that Hudson's post-Thanksgiving message to her children was pretty incredible and so sweet.
On Friday, after spending her Thanksgiving with family and friends, Hudson took to Instagram where she shared the cutest photo of her 14-year-old son Ryder (looking like such a grown up) holding Rani. And her message about being so grateful for her kids (and Ryder) might be the sweetest thing you'll read all day.
Hudson wrote in the caption of the photo:
Post Turkey Day my son comes into our bedroom, takes his sister in his arms, and spent some solid early morning time loving her. I watched thinking...I'm thankful for love. Unconditional love and that my children embody what it is when one feels loved. Let's all have an entire year where we stay grateful. Let's keep this party going.
Although Hudson's 7-year-old son, Bingham, was missing from this photo, you can tell that Hudson is so thankful for all of her children, especially since they embody that "unconditional love" that she wrote about.
It's hard for Hudson to not feel that love. Since becoming a mom in 2004, Hudson has been all about her kids. You can tell that she's devoted, she's loving, and she cares so deeply about them — even though in 2016, Hudson wrote in an essay for InStyle that she sometimes feels like "a bad mom."
"Some days I feel like I should win best mom of the day award, and other days I find myself doing strange things that don't have any real purpose, in far away corners in my house, and I realize I am literally and deliberately hiding from my children," Hudson wrote.
But this Thanksgiving, Hudson definitely won the "best mom of the day" award, because she wasn't just thankful for love this year, she was thankful for other things, too, like her breast pump.
On Thanksgiving, Hudson shared a video of her pumping breastmilk for Rani, and wrote in the caption of the video that she had so much gratitude for her breast pump (because which mom on the go isn't thankful for that?). "Thankful for the miracle of life and really working on gratitude for my pump," Hudson wrote in the caption of the video.
Although it might not seem like a lot, breast pumps are something that a lot of new moms were thankful for this Thanksgiving, in addition to being thankful for the baby that they get to feed — just like Hudson.
After reading Hudson's post from Friday, people should take a page out of her book. Instead of being thankful just this weekend, people can practice gratitude for the next year. Like Hudson, there is so much to be grateful for — and family is just one of those things.
This first-time mom wants to have a home birth, but is she ready? Watch how a doula supports a military mom who's determined to have a home birth in Episode One of Romper's Doula Diaries, Season Two, below. Visit Bustle Digital Group's YouTube page for the next three episodes, launching every Monday starting November 26.