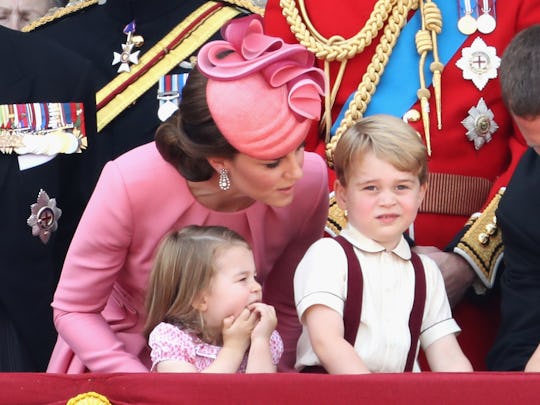 Chris Jackson/Getty Images Entertainment/Getty Images
Kate Middleton Hopes Her Children Are "Better" Than Her At This Useful Skill
It's not uncommon for a parent to have aspirations for their children, especially in areas where they're lacking. One famous person who knows this phenomenon all too well is Kate Middleton, who hopes her kids will master foreign languages. As it turns out, the Duchess of Cambridge could improve in this department.
Middleton is one of those people who projects perfection, whether intentionally or not. The mom-of-three is a member of the royal family after all, which means there's an unspoken expectation that she must be flawless at all times. Although this is a completely unfair situation (can you imagine the level of pressure she must face?) it's something Middleton must contend with on a daily basis.
But on Wednesday at Leicester University, the Duchess of Cambridge was able to get honest and candid with a group of supporters. It all started when one well-wisher in the crowd told Middleton that she's from Italy, according to People.
"It's very nice to see you. I should be saying, 'Ciao!,'" the Duchess of Cambridge replied, according to the Daily Mail.
Then after a brief pause, she admitted that her Italian is "so bad."
I bet there's a good chance many people out there can relate to this situation. Acquiring a foreign language can be more difficult when you're older, and you need to keep practicing what you've learned to stay sharp.
After the supporter assured Middleton that her Italian is "perfect," the royal made mention of her kiddos.
"I have to make sure my children are better than me, that's my aim," she shared, according to ELLE.
Luckily for the Duchess of Cambridge, there's a good chance her wish will come true.
Princess Charlotte, for instance, already knows some Spanish.
"She's very sweet and very confident — she's always chatting away," a source said about the 3-year-old's skills, according to HELLO! Magazine.
As for Prince George? He can reportedly count to 10 in Spanish, according to the Daily Express.
It's also interesting to note that Prince William and Prince Harry can both speak five languages outside of English: "French, German, Welsh, Swahili, and Gaelic," according to Reader's Digest. Woah.
Of course, Middleton's struggle with Italian doesn't affect her stellar parenting. The Duchess of Cambridge is a fabulous mom who handles the complex emotions of parenthood like a champ. She once said about becoming a parent, according to HuffPost:
Nothing can really prepare you for you the sheer overwhelming experience of what it means to become a mother. It is full of complex emotions of joy, exhaustion, love and worry all mixed together. Your fundamental identity changes overnight. You go from thinking of yourself as primarily an individual to suddenly being a mother, first and foremost.
As for those moments when Middleton needs help, she fortunately has a strong network of people to call on, like her Spanish speaking nanny, Maria Borrallo.
"Personally, becoming a mother has been such a rewarding and wonderful experience," she said about parenting challenges, according to Glamour. "However, at times it has also been a huge challenge – even for me who has support at home that most mothers do not."
Although Middleton can't speak Italian well, it probably won't prevent her kids from picking up the language. Happy learning, Princess Charlotte, Prince George, and Prince Louis.
This first-time mom wants to have a home birth, but is she ready? Watch how a doula supports a military mom who's determined to have a home birth in Episode One of Romper's Doula Diaries, Season Two, below. Visit Bustle Digital Group's YouTube page for the next three episodes, launching every Monday starting November 26.