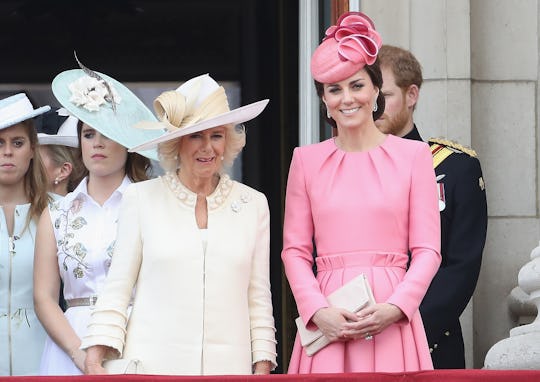 Chris Jackson/Getty Images Entertainment/Getty Images
Why You *Might* Not See Kate Middleton At The Next Royal Wedding
There's another royal wedding coming down the pike, and after the wedding of the Duke and Duchess of Sussex, you just know everyone is super excited. In fact, who the heck can be bothered with regular people weddings anymore after watching a royal wedding? They're clearly way better. Everyone knows this, but it looks like one key person might be missing the next royal wedding. The Duchess of Cambridge. Kate Middleton might skip Princess Eugenie's wedding, but not because she thinks she's too cool or anything. Because she could very well be busy with some other very important family business.
Princess Eugenie, the youngest daughter of Prince Andrew and Sarah Ferguson, is set to marry fiancé Jack Brooksbank on Oct. 12 at St. George's Chapel in Windsor Castle, according to Harper's Bazaar. Her older sister, Princess Beatrice, is set to serve as maid of honor at the wedding, the publication reported.
Elements of this wedding might look vaguely familiar to royal watchers who gobbled up Meghan Markle's wedding to Prince Harry on May 19. For one thing, Prince George and Princess Charlotte will once again be acting as bridesmaid and page boy as they did for their uncle Harry and aunt Meghan. And because Prince Harry and Princess Eugenie are first cousins (Prince Charles is older brother to Prince Andrew), the guest list will look pretty similar as well. Perhaps with one notable absence.
Kate Middleton might not make the wedding for a pretty good reason; her own sister, Pippa Middleton, could be giving birth that day, as The Sun reported. Pippa Middleton is expecting her first child some time in October with husband James Matthews. According to a report by The Express, Pippa Middleton is currently in her second trimester of pregnancy and, while the exact due date has not been announced, it is expected to be some time in October.
This could put the Duchess of Cambridge in a pretty tough spot. First of all, her children are attendants at the royal wedding of Princess Eugenie and her husband will most likely be in attendance as well, which would normally mean that she would be expected to be on hand. Especially since Queen Elizabeth II is reportedly something of a stickler for royal traditions and protocol, according to Harper's Bazaar, I would imagine that she would want the whole royal family at the wedding.
But Pippa is her sister. And her sister might need her when she's giving birth to her very first baby. What's a girl to do?
If I were a betting girl, I would put my money on Pippa. The Middleton sisters have always seemed very close; Pippa was maid of honor at Middleton's wedding to Prince William, according to People. And when it was her turn to get married in the spring of 2017, the Duchess of Cambridge was on hand to help out as a kid wrangler at her wedding, where her two older children were again playing bridesmaid and page boy, according to Vanity Fair.
Then there's this; Kate Middleton has given birth three times, most recently in April when she welcomed youngest son Prince Louis. She knows a little something about what it's like to bring a baby into this world, and would probably be of immense comfort to her sister. She can teach her sister how to deliver a baby and walk out of the hospital, smiling and perfectly coiffed, mere hours after the fact. Just kidding, I don't think that skill can actually be taught.
With any luck, the two big events won't coincide and Kate Middleton will be able to attend the royal wedding and be there for her sister. But if she's not at the wedding... let's face it, we'll probably know why.