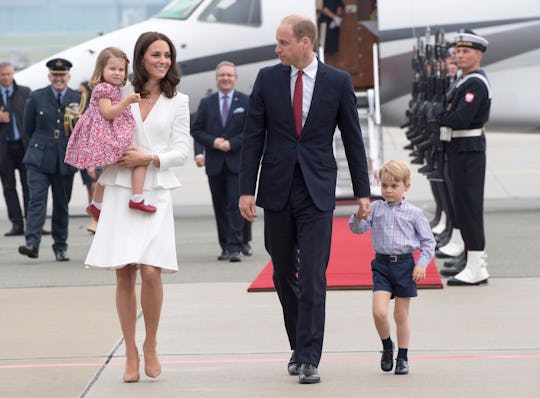 Pool/Getty Images Entertainment/Getty Images
Kate Middleton & Prince William's Third Child's Official Royal Title Is *So* Regal
With the newest royal baby arriving soon — the due date is sometime in April — attention has turned to what Kate Middleton and Prince William's third child's royal title will be. It's hard enough coming up with a name for a baby, imagine having to come up with a job description for them too. That's essentially what happens when a new royal is born, but thankfully tradition takes care of the titling part so mom and dad just have to find a suitably regal/lovely/handsome/classic name.
Marlene Koenig, a royal historian, spoke to Town & Country about the complex world of royal titles, explaining that if the new baby is a boy he will formally be called His Royal Highness Prince (Name) of the United Kingdom of Great Britain and Northern Ireland. If it's a girl, she'll be Her Royal Highness Princess (Name) of the United Kingdom of Great Britain and Northern Ireland, Koenig explained to the publication.
While royally fancy, it's rare to hear those formal titles used. For example, Middleton and Prince William are more commonly known by their secondary titles, the Duke and Duchess of Cambridge. Little Prince George — who is now 4 years old and third in line to the throne behind Prince Charles and Prince William — is officially known as His Royal Highness Prince George of Cambridge. And young Princess Charlotte — who is now 2 years old and fourth in line — is Her Royal Highness Princess Charlotte of Cambridge, as you can see noted in her birth certificate.
The system of titles is centuries old and part of what used to be called the Peerage. Business Insider explained that in times past the queen or king could grant a title like duke to someone who swore allegiance to the crown. The title usually came with land or money, something to rule over. Having a title did not make them a member of the royal family, however it might give them the right to sit in the House of Lords, which is part of Parliament, as Business Insider explained. Male heirs used to be able to inherit a title from their father, but in 1958 Britain passed the Life Peerage Act, which limits a title to someone's lifetime. The act was part of an effort to diversify Parliament by bringing in more women and people holding a variety of professions.
Removing the inheritance rule means that when royal children are born they may gain a royal title, but they don't gain one that grants them peerage. For example, Prince William was bestowed the title of Duke when he married, which is the tradition. Prince Harry is still a prince but not yet a duke. It is expected he will be named the Duke of Sussex when he marries Meghan Markle later this year, according to The Telegraph.
When it comes to naming the new members of the royal family, it's traditional for couples to name babies after former royals (which is why the lineage can get so confusing.) Though Middleton and Prince William never publicly discussed it, it's likely their son Prince George was named after Queen Elizabeth's father, King George VI. George is also one of Prince Charles' middle names. Middleton and Prince William did break with tradition when they gave their son the middle name Alexander Louis, as no Alexander has ruled in Britain, according to Babycentre.
Princess Charlotte's name is also a nod to Prince William's father, Prince Charles. It is also Middleton's sister Pippa's middle name and hearkens back to Queen Charlotte, according to the Daily Mail.
As for the newest royal baby? People certainly have ideas and betting on the name of a royal baby is quite popular in Britain. For example, Shawn Schulze, who works at Names.org, told USA Today that they are favoring names like Caroline, Amelia, Nathaniel or Thomas, but it's also possible the couple could honor Prince Phillip, or his mother Princess Alice.
Whatever the name, the new baby will absolutely be loved by his rapidly growing family, and the world. Here's hoping royal watchers will even get a glimpse or two of the newest prince or princess enjoying the next big royal event, the wedding of Prince Harry and Markle coming up on May 19.
Check out Romper's new video series, Bearing The Motherload, where disagreeing parents from different sides of an issue sit down with a mediator and talk about how to support (and not judge) each other's parenting perspectives. New episodes air Mondays on Facebook.