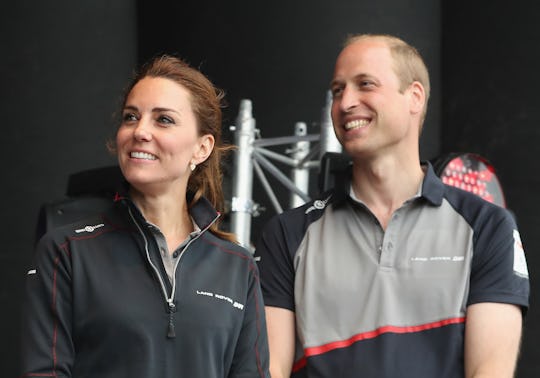 Chris Jackson/Getty Images Entertainment/Getty Images
Kate Middleton Says "Expert Support" Is Needed Just As Much In Childhood Mental Illness
Kate Middleton, the Duchess of Cambridge, has always used her royal position to advocate for causes she cares about, and recently, she's been using her sway to fight for children's mental health. She's currently supporting the launch of a new podcast, Child in Mind, because Middleton believes children's mental health requires "expert support" just as much as adults' mental health does.
The podcast's first episode, presented by BBC4 presenter Claudia Hammond and launched by the Anna Freud National Centre for Children and Families, is already available online. Going forward, Child in Mind will tackle child and family mental health issues alongside experts, parents, and children, and each episode will last 20 minutes.
Middleton, who supports the Anna Freud NCCF, said in a statement:
One in three adults still say they would be embarrassed to seek help for their child's mental health. No parent would fail to call the doctor if their child developed a fever, yet some children are tackling tough times without the support that can help them because the adults in their life are scared to ask. .... Throughout my work with family and child support organisations, one thing that has stood out to me time and again is that getting early support for a child who is struggling to cope is the best possible thing we can do to help our children as they grow up.
According to the National Institute of Mental Health, half of all lifetime cases of mental illness are developed by age 14, and the American Psychological Association estimates that more than 15 million children in the United States could be diagnosed with a mental health disorder. Unfortunately, however, only about 7 percent of those children will actually receive the treatment they need, often due to stigma or parents' lack of familiarity with mental health issues.
"It doesn't need to be like this," Middleton said in her statement. "Both William and I feel very strongly that we wouldn't hesitate to get expert support for George and Charlotte if they need it."
Middleton added:
I hope that this excellent series of podcasts by the Anna Freud National Centre for Children and Families will go some way to help families overcome that fear of what happens next if they look for professional support.
Early diagnosis and treatment of mental health issues can stop them in their tracks, lead to early recovery, and prevent related issues from developing. To tune into the Child in Mind podcast, visit the Anna Freud NCCF website, check out their Soundcloud account, or find them on iTunes.