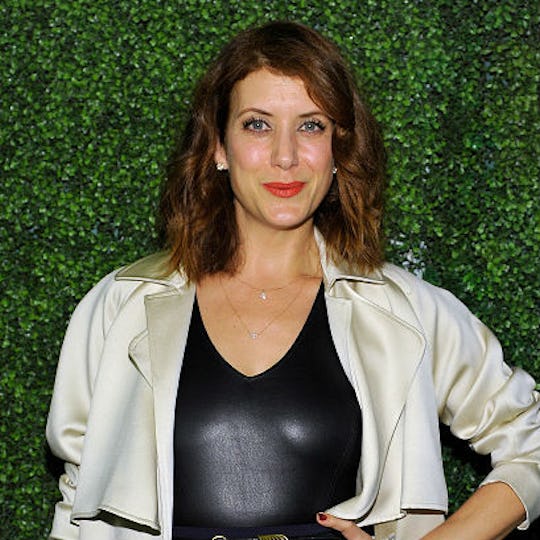 Kate Walsh Shares Her Tips For Having A Happy Holiday In & Out Of The Kitchen
We all know Kate Walsh is an amazing actress, but did you know that she's also a stupendous chef? Not only does this girl know her way around a TV set, she can also totally own a kitchen — even in the midst of a stressful holiday celebration. We chatted via email with Walsh to ask her how she keeps her cool during the holiday havoc, what her best cooking advice is, and just in general how she got to be so darn cool.
Kate's biggest piece of advice for handling the culinary Christmas chaos? Remember what the holiday is actually about. "The holidays should be enjoyable," says Walsh. "So don't be afraid to cheat or ask for help so you don't waste all of your time during family get togethers in the kitchen." Hosting the holiday isn't about impressing everyone with your flawless soufflés, it's about coming together to enjoy good food and quality time.
That's why Walsh has been working with Boston Market to create some delicious and easy holiday recipes the whole family can enjoy. "I've partnered up with the Holiday Experts at Boston Market this year for the holidays because I love how easy they make it to have a good holiday meal," she says.
Perhaps the reason Walsh focuses so much on the family aspect of making the holiday meal, is that her penchant for cooking stems from a family connection. "My fabulous Italian mother taught me so much of what I know. Both inside the kitchen and out," she says. "Everything from how to cook the perfect turkey to our own family holiday recipes, like creamed turnips."
In addition to learning in her own kitchen, Walsh (like many aspiring actors) worked as a waitress, which definitely contributed to her foodie future. "I would say it was my time when I worked as a waitress in Chicago that really encouraged me to play with food and try my own spin on existing ingredients," she says. "I remember taking the creamed spinach side from one restaurant I worked in, mixing in eggs for a scramble, and adding some tabasco and parmesan. So good!"
When it comes to crafting new culinary concoctions, Walsh always looks to her own pantry first. "I'm a big fan of taking whatever it is you have in the kitchen and making something new rather than going to three different grocery stores for obscure ingredients," she says.
And what's her advice for having a healthier holiday without skimping on all of the flavor? Well, she doesn't skimp on the flavor at all. Instead of making a healthier version of her holiday favorites, she makes them exactly as they should be and practices portion control and moderation.
"I still believe that Crisco makes the best pie crust," she says. "So rather than swapping out ingredients for less flavorful or processed low calorie alternatives, I simply try to practice balance."
Sounds like she's got it all down pretty perfectly, doesn't it? But even the kitchen and acting greats can have totally epic fails when it comes to cooking a difficult dish.
"I make a very delicious gateaux chocolat," says Walsh, recounting one of her most memorable mistakes. "One night I was making it for Sunday dinner in my new oven, and didn't realize the temp was about 25 degrees off until I transferred it to the glass cake plate and it spilled all over. So I put the cake stand and gateaux in the microwave to finish it off, thinking it has a gooey center anyway. Problem solved! Except the glass cake stand had gotten molten hot whilst in the micro so I transferred it to the garage fridge to cool off and when I went down to retrieve it for dessert, I found the dish had shattered all over the fridge and my gateaux was in pieces with shards of glass as a garnish."
We love Walsh's ability to laugh it off, and that she's able enjoy the holiday for what it's really about and not get caught up in the craziness. And, best of all, we love that she's willing to share some of her most fantastic recipes with all of us! You can find more of Walsh's recipes and tips at Boston Market's holiday page, including her Next Day Cheesy Mac & Cheese (yum) and her delicious Cream of Spinach Pie, which we've also posted right here!
So do your best to channel your inner Kate Walsh this holiday season and cook up the best of the holiday flavors — but be sure to do so with her carefree and happy holiday attitude.
Cream of Spinach Pie
Ingredients
2 cups Creamed Spinach Boston Market
3 ea. eggs - large
½ cup cheese gruyere shredded
1 ea. 8 inch Pie Crust
1/2 cup Fried Onions
Procedure
1. Preheat oven to 350 degrees.
2. Scramble eggs and mix with spinach.
3. Place the warm creamed spinach in a mixing bowl.
4. Fill pie crust with the spinach mixture, top with Gruyere cheese and place in oven, cook for 30 minutes until golden brown.
5. Remove from oven top with fried onions and let rest for 5 minutes before serving.
Images: John Sciulli/Getty; FleishmanHillard (2)