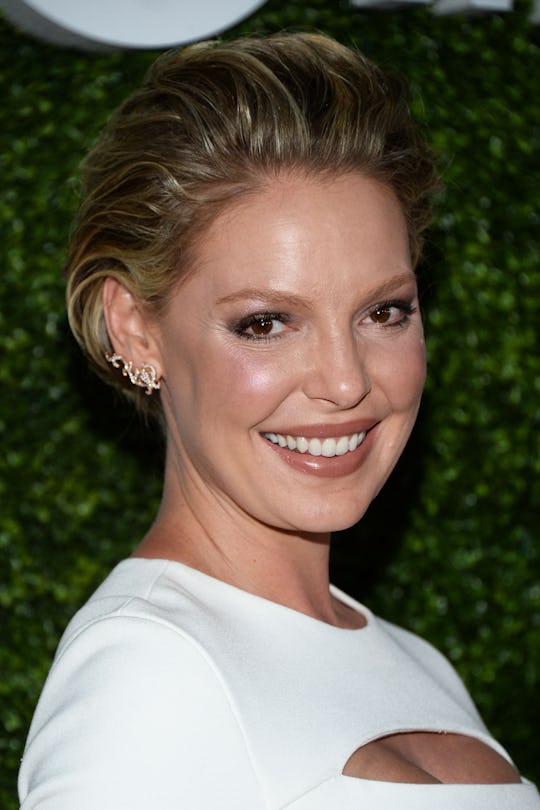 Matt Winkelmeyer/Getty Images Entertainment/Getty Images
Katherine Heigl Says Hiding Her Pregnancy Bump In 'Doubt' Is A Challenge
The former Grey's Anatomy star Katherine Heigl is starring in an upcoming CBS drama called Doubt. She and husband Josh Kelley are also expecting their third child, a baby boy, this January. But the Doubt actress' new character isn't pregnant in the show's script – and Heigl says hiding her pregnancy bump is a "challenge." It seems things certainly got creative on set.
In an interview with People, Heigl, who has two daughters, Naleigh and Adelaide, shared some of the creative ways she hides her baby bump while filming.
"So yes, I am pregnant and it's not part of my character's development for the season," Heigl said. "We're working really hard to try to kind of hide it and it's a challenge, I will not lie, it's a challenge. Because every day my body changes a little bit more."
Heigl explained that in the beginning, she worked with the costume crew to choose certain pencil skirts and dresses that would hide the bump, until eventually switching to big coats, and even purses to help hide her growing belly.
The actress also joked that a plant may come in handy. "I think I should start carrying a big plant around, honestly, just to shake things up," she said.
She may be on to something.
Heigl plays Sadie Ellis in Doubt, a lawyer who starts to fall for her client who's on trial for murder. She's joined by Judith Light, Dulé Hill, Elliot Gould, Steven Pasquale, and Laverne Cox.
And Heigl's creative pregnancy-belly-bump-hiding efforts certainly aren't the only exciting thing about the new series. Cox is making TV history by becoming the first transgender actor to play a regular full-time character in a broadcast series.
As for Heigl's character, Sadie, the actress gave a spot-on feminist explanation as to why she appreciates certain qualities about her character in an interview with TV Guide.
"This woman has this job, and got this job, not because she had to act like a man to get a man's job or be in a man's world, but because she's a woman and because she has certain strengths and differences and different ways of seeing things..." she said.
Doubt will debut in the 2016-2017 season, TV Guide reported. So, remember, if you see Heigl mysteriously holding a plant in a few scenes on the show, then you'll know that the actress' joke actually turned out to be a good idea after all.