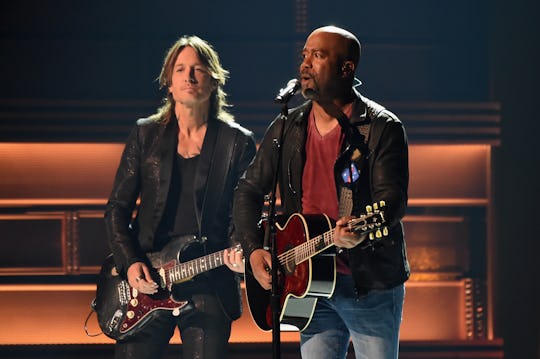 Rick Diamond/Getty
People Had A Lot To Say About Keith Urban's CMAs Performance
It's a weird, weird world we're living in today, folks, but at least it looks like some men (sometimes) are finally being held accountable. Following not one, but two bombshell exposés about his alleged history of sexual abuse, Harvey Weinstein has seen an epic fall from grace. In response, celebrities left and right are speaking out about it, including country stars. For example, Keith Urban performed "Female" at the CMAs and people had a lot to say about it. Anything about Weinstein is sure to make a splash these days, but a country song by Nicole Kidman's husband is going to have a particularly big impact.
Though he did not write the song, Urban said that he was inspired by the female role models in his life, and felt very strongly about the message of empowerment for women. The singer said to Billboard:
As a husband and a father of two young girls, it affects me in a lot of ways. And as a son -- my mother is alive. It just speaks to all of the females in my life, particularly. For a guy who grew up with no sisters in a house of boys, it's incredible how now I'm surrounded by girls. But not only in my house; I employ a huge amount of women in my team. The song just hit me for so many reasons.
Well, his new song has the support of at least one woman, fellow nominee Kelsea Ballerni.
Some people, like Ballerini, are firmly on Team Keith in this debate. Many women praised Urban's message, calling it "powerful" and "beautiful." I'll give you this much, Keith Urban fans, the man certainly knows how to croon a ballad.
Others, well, are not so impressed. Some women felt that the song was a little, well, condescending. To be honest, it felt a little bit like someone mansplaining feminism, but set to music. I'm sure this was not Urban's intention with this song. But, you know, no one really means to mansplain something. It just kind of happens. Which is kind of the problem.
In case you, like many of the world, are on the fence about how to feel about Urban's new jam, here are some of the lyrics.
Sister, shoulder, Daughter, lover, Healer, broken halo, Mother nature, Fire, suit of armor, Soul survivor, Holy Water, Secret keeper, fortune teller, Virgin Mary, scarlet letter, Technicolor river wild, Baby girl, women shine, Female
I have to be honest with all of you, I have no idea what any of that means.
Urban, who was recently honored at the BMI awards, is one of country music's most enduring and beloved stars. He is also married to national treasure Nicole Kidman (have I already mentioned that?). Accepting his award for Single of the Year at the Country Music Awards — for his song "Blue Ain't Your Color," Urban shouts out a thank you to his wife "Nicole baby girl," currently in China. Perhaps she is the "baby girl" he referred to in the lyrics of the song.
For what it's worth, I think it's great that Urban is making an effort to be an earnest ally to women. Women need the voice that powerful men can provide to be a partner to us. Personally, however, Urban's message didn't speak very powerfully to me. Sure, I can appreciate the effort he's clearly put into being on my side in this issue, but the lyrics of the song feel a lot like he's trying to explain my own experience to me. Or better yet, make me feel somehow better about my experience as only a man can. But hey, that's only one writer's opinion.