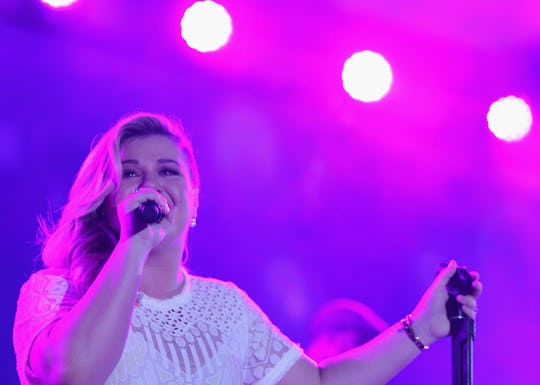 Isaac Brekken/Getty Images Entertainment/Getty Images
Kelly Clarkson Has One Special Grammys Date
Grammys night is fast approaching — and one well-known singer will definitely be bringing the world's cutest date to the awards show. On Sunday, Kelly Clarkson is taking her daughter to the Grammys, and she has the cutest reason ever for bringing her pint-sized companion, River Rose. Clarkson wrote "Piece by Piece," the song that earned her a Best Pop Solo Performance nomination this year, for her 2-year-old daughter.
Clarkson, who will also be presenting an award at the Grammys, let her fans know about her adorable upcoming date on Friday. She announced it in a super casual, smile-filled video published on American Idol's Facebook page, in which she said:
Hey, what's up, Idol fans! I am so excited that I got nominated for the Grammy that I sang, "Piece by Piece," live on Idol the last show and it was such a nice book-end for me. So thank you all so much for all the support for like 15 years, and I'm so excited. I'm taking my two-year-old because I wrote the song for her...
"And you," Clarkson added to someone off-camera, before turning back to the feed. "That's my husband. He's right there."
In case you had any doubts about the cuteness of Clarkson's slightly underaged date, here's picture proof that they'll be the best duo at the awards show on Sunday night. (If you go to Clarkson's Instagram account, you'll find way more cuteness where that came from.)
Clarkson has talked about the story behind "Piece by Piece" in the past. During an on-air radio interview with Ryan Seacrest last year, she praised her husband and River Rose's birth for giving her a new perspective on family, after having spent years dealing with her absent father.
"I don't even think I understood the gravity of [my relationship with my father] until I was pregnant with [River Rose]," she told Seacrest. "I was like, 'I cannot imagine not seeing this kid to his or her full potential and just seeing what she's going to do, what she's going to be like.'"
River Rose made it into Clarkson's music video for "Piece by Piece" as well, grinning as her mom planted a kiss on her cheek. But the most emotional and personal version of the song is likely Clarkson's performance of "Piece by Piece" on American Idol, where she — and many judges and audience members — were left in tears.
Now, it looks like Clarkson is sticking to her promise of always putting her daughter first — since River Rose will be sitting smack-dab in the middle of the biggest awards night of the year with her mom. And personally, I am super excited to see what River Rose wears on the red carpet. Something tells me her signature huge smile will be involved.