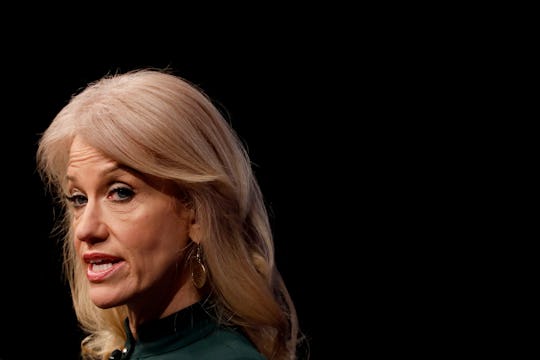 Aaron P. Bernstein/Getty Images News/Getty Images
Kellyanne Conway Claims Anderson Cooper's Eye Roll Was Sexist
After a noticeable absence from the airwaves in recent weeks, White House counselor to the president Kellyanne Conway is back in the media spotlight once more. On Tuesday, Conway appeared on CNN's Anderson Cooper 360, talking about President Trump's abrupt firing of FBI Director James Comey. As Conway deflected from Cooper's repeated questions about Comey's firing, the CNN anchor unleashed a massive eye roll caught on camera. On Thursday morning, during an appearance on Fox & Friends, Conway claimed Cooper rolling his eyes at her was sexist. Representatives for Cooper and Conway did not immediately return Romper's requests for comment.
In case you missed Cooper's epic eye roll on Tuesday night, he first played several clips of then-candidate Trump showering praise for Comey on the campaign trail in 2016. After the clips finished, Conway responded:
You are conflating two things that don't belong together. Thanks for the trip down memory lane. I was on your show often last fall, saying we were going to win Michigan and how we were going to do it...
It was at that last point Cooper couldn't help but roll his eyes as Conway continued to evade questions about Trump's contradictory behavior regarding Comey and drudge up more talking points about the president's victory. The moment was caught on split screen and video clipped and gif-ed into eternity on social media.
On Thursday, Conway appeared on Fox & Friends, calling out the 49-year-old veteran journalist for his "sexist" behavior when rolling his eyes at her. "Could you imagine... having a male anchor on the network roll eyes at Hillary Clinton, at somebody — a female representative spokeswoman for President Obama or President Bill Clinton?" Conway offered. "I think not."
Of course, Conway then went on to call former Secretary of State Hillary Clinton's recent comments about the election as a "lame excuse" when Clinton said misogyny contributed to her election loss at a global women's conference in April.
So, within the span of a few seconds, Conway threw down the "sexism" card for how she felt she was treated by Cooper, but then turned around and calls the same criticism a "lame excuse" when Clinton cited far more overt and egregious examples of sexism and misogyny lobbed at her during the presidential election. For Conway to call out Cooper's eye roll as sexist is a bit of a stretch — especially when she turns around and calls accusations of misogyny made by another women in politics a "lame excuse."
This pattern of cognitive dissonance is nothing new for her, either: Conway has accused journalists of sexism before in how she's been covered in the media while at the same time playing either coy or just plain in denial on Trump's record of sexist comments about women. So yes, given Conway's unrelenting spin game anytime she appears on TV news at this point, there's pretty much only one way to react: