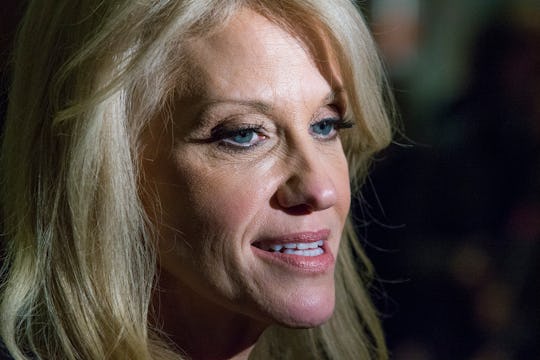 EDUARDO MUNOZ ALVAREZ/AFP/Getty Images
Kellyanne Conway Dismisses Sexual Assault Question From 17-Year-Old, & It Says So Much
President-elect Donald Trump truly met his match when he hired Kellyanne Conway, his third campaign manager. While Corey Lewandowski proved too violent and Paul Manafort too cozy with Russia, Conway turned out to be a carbon copy of the candidate himself, and nowhere does that show more than when she's faced with tough questions. They're both adept at refusing to answer questions and changing the subject, which is what happened when a 17-year-old questioned Conway about Trump's sexual assault allegations at a speaking engagement on Wednesday morning, according to The Hill.
The Washington, D.C. event, sponsored by the University of Virginia's Center for Politics, was attended by a number of high school students from an Advanced Placement government class. When the floor was opened up for questions, Maaike Laanstra-Corn, the daughter of Mother Jones Washington bureau chief David Corn, asked Conway how she, as a woman, could rationalize working for a man whose been accused of sexually assaulting over a dozen women and girls (Trump has denied the allegations and his representatives haven't responded to Romper's requests for comment). Conway was presumably unable to rationalize it, as she replied to Laanstra-Corn, "Women are tired of the same argument and the same thing you are presenting to me right now." To Conway, I reply: Not all women.
Conway went on to suggest that discussing the claims that the president-elect may be a serial sexual predator is without merit because doing so would not cause factories to open or stop terrorist militants from releasing ill humors. Oh, how I wish I were kidding. Per The Hill, Conway reportedly replied, "I'm glad that people looked at [those attacks] and said, 'You know what? That's an argument that will not create a single job in my community, not bring back a single of the 70,000 factories that have been closed, will not deter one member of ISIS from doing their bloodletting here or anywhere else in the world." Who said that, exactly?
Conway's pivot to ISIS echoes Trump's response to Anderson Cooper during the second presidential debate in October, when Cooper asked him, "You bragged that you have sexually assaulted women. Do you understand that?" Trump's reply, via Politico:
No, I didn't say that at all. I don't think you understood what was said. This was locker room talk. I am not proud of it. I apologize to my family, I apologized to the American people. Certainly, I am not proud of it. But this is locker room talk. You know, when we have a world where you have ISIS chopping off heads, where you have them, frankly, drowning people in steel cages, where you have wars and horrible, horrible sights all over and you have so many bad things happening, this is like medieval times. We haven't seen anything like this. The carnage all over the world and they look and they see, can you imagine the people that are frankly doing so well against us with ISIS and they look at our country and see what's going on.
Trump went on to invoke ISIS four more times, and Cooper had to ask Trump whether he'd ever kissed or groped women without consent an incredible three times before Trump said he had not, then complained about Middle Eastern immigrants taking American jobs. It's been a common theme since Trump first announced his candidacy: when he and his surrogates are faced with tough questions, they change the subject. When the media highlights serious issues with his administration, he posts outrageous statements on Twitter to distract the public. Do not be distracted. Trump and his regime must be held accountable. We could all learn a thing or two from that 17-year-old girl.